Update, Thursday 4:30 p.m.: A city building inspectgor has been charged with falsifying an inspection report regarding the crane which collapsed last Saturday, March 15, 2007. More information at the NYT CityRoom blog.
Update, Tuesday, 1:17 pm: Investigators have narrowed down the cause of the NYC crane collapse to a $50 strap of nylon fabric that snapped under the weight of a six-ton piece of steel. More details here.
Update, Monday afternoon, 2:43 pm: MSNBC is reporting that the death toll is at 7 - all of the missing three people were found, sadly all dead. 24 people were injured.
An investigation is underway to determine whether it was human or mechanical error that caused this accident - or, presumably, a more systematic pattern of negligence relating to the construction practices at the site, as has been suggested by a few residents (see video below).
Update, Monday morning 10:20 a.m.: Sadly, the death toll now stands at five: MSNBC reports that a body was pulled out of the rubble earlier this morning. One other person is still missing, according to reports, a female resident of the building, apparently. The site is still dangerous but becoming more secure, reports MSNBC's Rehema Ellis.
Update, 11pm: Alas, there are apparently 3-4 people still missing. The search in the rubble continues; it is slow going because they are taking great care not to trigger any potential instability. Apparently there was concern about a nearby gas main; gas to the six evacuated building has been shut off but apparently it is still a concern.
Here is some recent video from Fox News updating the situation, including an interview with a witness who lives a block away who said that the crane collapse was "the direct result of reckless construction which we have observed and complained about for months." He described his observations as the constructions proceeded, and also said residents avoided the "obvious menace" of the crane, taking detours not to be too near it. Note that Mayor Bloomberg said that permits for operating the crane yesterday were in order. Video below:

Update, Sunday afternoon, 2:30 pm: 24 hours after a giant crane collapsed and crushed an Upper East Side townhouse, damaging nearby buildings and killing four construction workers, the death toll has stayed amazingly stayed steady, even after a rescue and recovery mission worked through the night to save whomever might be alive in the rubble. The NYT reports that a man was pulled out of the rubble alive after almost four hours; two people trapped in Fubar, the a bar/restaurant on the ground floor of the demolished brownstone at 305 E. 51st St., were both rescued after at least one was feared dead.
The NYT identified the four construction workers killed in the crash: "The dead, all believed to be members of Local 15 of the Operating Engineers Union, were identified as Brad Cohen, Aaron Stephens, Anthony Mazza and Wayne Bleidner."
One day later, and thoughts turn to liability.
From the AP
:
Reliance [Construction Group] issued a statement Sunday expressing sympathy to the families of the dead and injured and said it was cooperating with investigators.

"We have already launched out own internal investigation to understand exactly what caused this tragedy," the company said.

[Reliance part-owner Stephen] Kaplan said the company had subcontracted the work to different companies and was not in charge of the crane. Phone messages and an e-mail seeking comment from the crane's owner, New York Crane & Equipment Corp., were not returned.

"There are no words to describe the level of devastation we feel today as a result of this tragic event," James Kennelly, the lead partner at East 51st Development Company, which owns the property, said in a news release.
Said Fubar owner John LaGreco: "It's unbelievable that this happened... We're going to sue the hell out of them, of course."
Scroll down to the bottom of this post for complete video of the press conference given by Mayor Michael Bloomberg and various other city officials at approximately 6 p.m. last night.

Saturday:
HuffPost business editor Michelle Kung lives at 300 E. 51st St. — the first building the crane crashed into, but luckily not the one it demolished. Michelle is shaken but okay. Her firsthand account of what happened is here.
There has been some speculation about whether the construction company had been operating less than completely safely; several building residents (including Michelle) had reported that the building seemed to have gone up at an almost scarily fast rate, and there had apparently been 13 violations on this site since January of 2006, which Mayor Bloomberg said "would be a normal number of violations for a building of this size." However there were 9 open violations on the site, including no guardrails, inadequate housekeeping, and "failure to safeguard public and property." (See here, and, via Gothamist, here, and here, plus unrelated here, which says there was an unrelated partial stop-work order on the site. Gothamist highlights this complaint from January: "CLR STS SITE UNSAFE CLR STS THAT CRANE SWIGING ABOUT 20 FEET AWAY FROM WINDOW CLR STS THAT CRANE CAN BEEN CLOSE SHE WOULD LIKE INSPECT TO HAVE THEM CLOSE."
Video of other eyewitness accounts:



Earlier:
A 15-story crane collapsed at a construction site in midtown Manhattan this afternoon and crashed into a block of apartment buildings, killing at least four people, according to NY1. A rescue and recovery operation is underway; NY1 and Fox News reports that others have been injured in the crash. The New York Times reports that the accident happened at 303 East 51st Street at about 2:20 p.m., and also puts the height of the crane at closer to 20 stories tall.
The crane, working on a building on East 51st Street and 2nd Avenue, also demolished a restaurant in the bottom of the building called Fubar, located at 305 E. 50th St. Fox News reports that Fubar was fortunately closed at the time; however, an employee is feared to have been in the restaurant at the time.
Update:
Per the NYT
City Room
blog:
At 5:50 p.m., a man was recovered from the rubble alive and taken to an area hospital, Fire Commissioner Nicholas Scoppetta said. So far, officials know of at least 10 people injured, three of them critically. The rescue effort was focused on a woman who was said to be in a bar on the ground level of a town house that was flattened when the crane crashed onto it.
Rescue dogs, thermal-imaging cameras and listening devices are all being used in the recovery effort. Firefighters will be working through the night.
From
NY1
:
The big white crane, which is said to be at least 15 stories tall and reported by neighbors to have appeared unstable, split in half at a construction site of a 25-story building on East 51st Street and Second Avenue, in the Turtle Bay neighborhood of Midtown Manhattan.

One part of the crane hit 300 East 51st Street, where it crashed through terraces on the 18th and 19th floors.

Another part of the crane snapped off and hit several town houses on East 50th Street, stretching across half a city block, as pictured in the viewer-submitted photo above.

The small, brick apartment building at 305 East 50th Street, which housed the dive bar Fubar, was leveled in the wreckage. At least one car was turned on its side, and other nearby cars had their windows blown out.

While Fubar was closed at the time, it's unclear whether the surrounding apartments were occupied. Firefighters are currently conducting a massive rescue operation amid the rubble. Authorities have blocked off the surrounding area amid concerns the crane will collapse further.
Here is an image from a cellphone video taken at the scene, included in the clip below: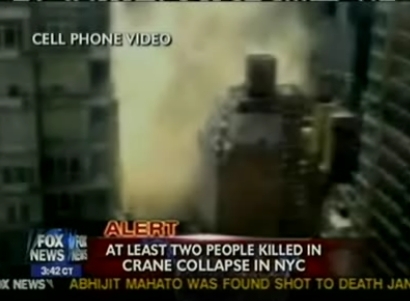 Here is the first report on the crane collapse from Fox News, at approximately 4:41 pm, initially reporting only 2 dead. That number has since risen to 4 as the rescue and recovery operation proceeds. Watch:
The NYT's City Room blog reports that New York Lt. Gov. David Paterson, who will be sworn in on Monday in place of disgraced governor Eliot Spitzer, toured the scene and described it as "very gory" with "blood in the street."
Eyewitness report from NBC News producer Christa Brunson, who called into MSNBC from the scene at approx 5:32 pm: "I'm right across the street from the crane and I can see - I'm on the side of the building that you can see the tip of the crane that literally just pancaked through the entire building. I mean it's just crushed. It's a huge crane and it was a small building, so the crane just demolished it."
This looks to be the view she was describing: From the NYT, here is a picture of rescue workers at the scene at 51st and 2nd in front of what looks to be 305 East 50th Street, the building which the NYT described as being destroyed by the crane, with its neighbor at 301 East 50th Street described as being "partially collapsed."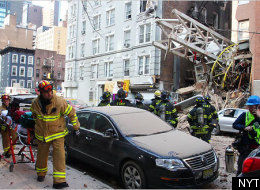 NY1 reports that, the four dead were believed to have been construction workers, which was confirmed by Mayor Michael Bloomberg in a press conference. FNC's Laura Ingle called in at approximately 5:30 pm and reported that the dead were feared to be at the restaurant Fubar, which had been closed at the time. Though the confirmed dead do appear to have been the construction workers mentioned, Fubar owner John PlaGreco told the NYT that he fears that an employee was in the bar when the crane fell. That person, a woman, is the target of a current recovery effort, according to the NYT City Room blog (as above).
Here is a picture of Fubar: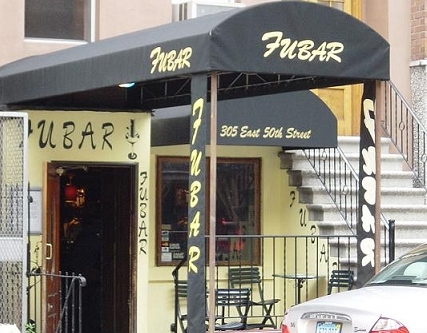 From the
NYT
:
John PlaGreco, who owns Fubar, located in the building that was crushed, told The A.P. that be believed one of his employees was in the rubble.

"Our bar is done," he said. "The crane crashed the whole building. If I wasn't watching a Yankees game, I would've come to work early and gotten killed."
Review from
New York Metromix
, including an explanation of its terribly ironic name:
The name of the bar, which is a charming acronym for "f**ked up beyond all recognition" says it all - in a good way. Located in a 'hood that's notorious for its cookie-cutter pubs teeming with an equally cookie-cutter and fratty clientele, this low-key joint is perfect for getting your drink on in peace. With several sections of the bar, including an exceptionally comfortable tavern-like front area and a small back lounge with pool tables, there are plenty of places to chill. The drinks are cheap and the crowd is typically cooler than what the neighborhood bars typically draw.
Here is a model and description of the planned 200,000 sq. ft., 46-floor residential condominium under construction at 303 East 51st Street for the East 51st Development Company, being built by JBS Construction (via the NYT). JBS had apparently subcontracted to Reliance Construction, which had further subcontracted the work, including that requiring the use of the crane today. Reliance Construction owner Stephen Kaplan called it a "freak accident." (Via NYI and Gothamist.)
Here's Michelle's take, as the tenant of a neighboring building watching the construction for the past few months:
The condo being erected across the street from my apartment is supposed to be 44-stories high, and has been going up at a frighteningly breakneck pace. In fact, the quick construction -- and its accompanying noise pollution -- have been a frequent subject of conversation between the tenants in my building for quite some time. It seems like just yesterday there was nothing in the condo's space, and now it's already half-"done". As a daily witness to the condo's growth, I can honestly say that I'd be afraid to live in a building put up so quickly -- and can only hope that the RCG Construction Group, the construction company behind the up-going condo, will take a long, hard look at its practices.
A screengrab from Fox News shows a part of the crane bearing the words "NEW YORK CRANES" on it, and NY1 confirms that the crane belonged to that company; the crane itself was made by the Australian company FAVCO. New York Cranes was implicated in another crane accident from October 2006 wherein an 800-pound chunk of crane fell on a New York City cab, almost killing the driver and h is passenger. The crane fell on the right side of the vehicle; fortunately for the two occupants, both were on the left side.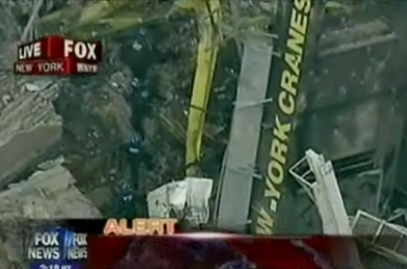 Here is a slideshow from the NYT, and here is a podcast of NYT writer Warren St. John's eyewitness account from his vantage point on a rooftop on 55th St. three blocks north.
For New Yorkers, here's an MTA advisory regarding subway and bus interruptions.
Here is the press conference by Mayor Michael Bloomberg and city officials, in two parts:

More updates to come - reports also at Gothamist, ABC News NewYorkology and the NYT.