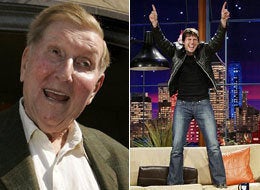 Has one of the legendary feuds in Hollywood come to an end? Tom Cruise and Sumner Redstone may be on the mend, according to reports in the NY Post and Wall Street Journal. The pair very publicly dined together in Los Angeles on Thursday, and may be ready to work together again.
Writes the Post:
Redstone, the cantankerous head of Viacom and CBS, fired Cruise two years ago after Cruise jumped on Oprah Winfrey's couch to demonstrate his love for Katie Holmes and then went on "Today" to promote "Mission: Impossible III," but instead went on a tirade against prescription drugs. But the two had lunch yesterday at the Polo Lounge in the Beverly Hills Hotel, one of LA's most public places for a rapprochement. "Tom is missing Paramount. He needs a hit," explained one Angeleno.
At a lunch at the Beverly Hills Hotel, a venue chosen by Mr. Cruise, Mr. Redstone said they "agreed the past is the past and we would put it behind us and renew our relationship."

A spokesman for Mr. Cruise declined to comment.

Mr. Redstone declined to elaborate on whether they discussed business. However, Mr. Cruise is widely thought to want to renew the "Mission: Impossible" series of movies, which Paramount has the rights to.

Mr. Redstone says Mr. Cruise "was happy I agreed to have lunch with him" and brought out pictures of his wife and daughter. Mr. Cruise thanked Mr. Redstone for a note he sent wishing him luck on his new venture just over a year ago, the Viacom chairman said. They agreed to get together for dinner at a later date, Mr. Redstone said.
Redstone cut ties with Cruise in August 2006. He told the December 2006 issue of Vanity Fair, "He was embarrassing the studio. And he was costing us a lot of money... He turned off all women, and a lot of men."