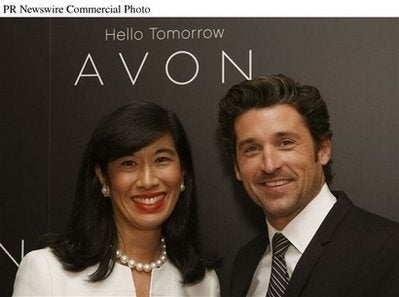 Patrick Dempsey, better known as McDreamy on ABC's 'Grey's Anatomy,' has signed a deal with Avon to the be the face of a new men's fragrance. Dempsey's wife Jillian, with whom he has three kids, has worked with Avon since 2006.
From the press release:
Avon Products, Inc. (NYSE: AVP) today announced it has partnered with award-winning actor Patrick Dempsey to create a signature men's fragrance set to debut in November of 2008 in the US, with a global launch following in 2009. This will be the actor's first foray into the fragrance industry, and he will be actively involved with every aspect of the project. Dempsey's wife, celebrity makeup artist Jillian Dempsey, has worked with the company since July 2006 as their Global Creative Color Director.
"We are thrilled to partner with Patrick Dempsey -- an incredibly accomplished actor who has achieved such broad appeal because of his genuine authenticity, charisma and style," said Andrea Jung, Chairman and Chief Executive Officer, Avon Products, Inc. "We're extremely impressed with both his on and off screen accomplishments, and have a shared commitment to giving back to communities in ways both big and small. We applaud his efforts earlier this month to open the Patrick Dempsey Center for Cancer Hope & Healing in Maine, and look forward to exploring future collaboration opportunities with our Avon Foundation."
"This is an extremely exciting opportunity for me to work with Avon -- a brand I have long respected as a global powerhouse with a lot of heart and soul," said Dempsey. "The brand reaches every corner of the globe with more than just high quality products -- it creates economic empowerment for women through its earning opportunity, and has an excellent reputation for corporate philanthropy through their Avon Foundation. My wife Jillian has enjoyed her experience working with Avon, and I look forward to joining the family as well."
One of Hollywood's most sought after and respected actors, Dempsey has won a Screen Actors Guild Award (2007) and People's Choice Award (2007) for his role as Dr. Shepherd on the ABC television super hit, Grey's Anatomy. Dempsey is also actively involved in his movie career, and will soon be seen in the upcoming romantic comedy Made of Honor, opening nationwide on May 2, 2008. Dempsey was last seen in Disney's Enchanted opposite Amy Adams, and the critically acclaimed Freedom Writers alongside Hilary Swank. Dempsey was born and raised in Lewiston, Maine, and recently returned to his home state to open the Patrick Dempsey Center for Cancer Hope & Healing in Maine.