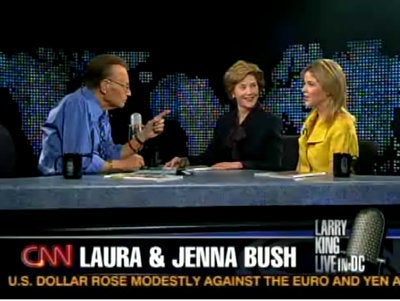 Laura and Jenna Bush continued their media rounds to promote their new book Wednesday night with a stop on CNN's Larry King. Larry managed to eek out some political conversation from the ladies. Laura told Larry she doesn't like it when Barack Obama and Hillary Clinton speak badly about her husband. And Jenna Bush dropped a bombshell by saying she doesn't know if she'll vote for a Republican. Watch the videos of Laura and Jenna Bush and then read the excerpted transcripts below.
Laura Bush on the "pounding" her husband is getting from the Democrats:
<0--1519806548--hh>0--1519806548--hh>

Jenna Bush on the possibility that she might not vote for a Republican:
<0--1519707861--hh>0--1519707861--hh>


Laura Bush transcript:

KING: Laura, has it been difficult putting up with all the flack that your husband has taken? And, you know, low polls, is it tough for you emotionally?
L. BUSH: Well, in some ways, of course, because I want George to be popular. But on the other hand, I know that he does what he thinks is right for our country and that he doesn't think he should try to be popular, that that's the easy way out.
But I also know -- and I've been watching the campaign, just like everybody else has, and it's been great theater -- that he takes a huge pounding from the other candidates, not all of them, not my candidate, John McCain, but I think that is -- that's demoralizing to me. I don't like that.
And for people who are running for this very office, I think it's sort of a good thing for them to think about --
KING: You don't like the way the Clinton-Obama campaign has been run, you mean?


Jenna Bush transcript:

KING: Do you have a favorite between the two, the two Democrats?
L. BUSH: My favorite is the Republican.
KING: Yours, too, I would imagine.
KING: A-ha. J. BUSH: But, I mean, you know --
J. BUSH: Yes, of course. I mean, who isn't open to learning about the candidates? But, I mean, and I'm sure everybody is like that. But I really -- I honestly have been too busy with books to really pay that much attention.
L. BUSH: No, no, the way they talk about the president.
L. BUSH: For somebody who wants to be the president, I think maybe it's a good idea not to talk about the president that way. But anyway, that's my advice to them.