....and people who cover animals in the wild! And people who really, really, really love food! And for the New Yorker, for whom an entire audience was holding its breath! And for people who like to swear like a sailor in their articles! (That one's for you, Matt Taibbi.) And for much-maligned Portfolio editor Joanne Lipmann, who took home the mag's first Ellie, to a murmur from the crowd! And for lefty mags, like Mother Jones and The Nation! And for bar-backs, who now know they have a place at Vanity Fair! It was, dare we say, a great night for magazines — big and small, niche and mainstream, print and online, all of which were recognized in a broad range of nominations and awards that proved that excellence in magazines is still alive and well.
That's not all we have to say on the subject — oh, no — but first we have to decide which of the 199 photos we took last night will make the cut (we were hoping to get all
Annie Liebowitz
and do a photoshoot of new ASME prez
David Willey
frolicking in the chocolate fountains, but no such luck). In the meantime, here's a trick we learned from magazines: Long lead time! We're gonna post 'em and write it
aaaaaaall
up, but you'll just have to wait. To keep you coming back, some teasers:
Which lone Ellie-winner did we adopt at the end of the night? An Ellie-winner needs an after-party, peoples.
Which blogger was almost kicked out of the auditorium for causing a disturbance?
Which actor from "30 Rock" promised to wear a hat with the words "Blog Expert" on the show? (Okay now we're just showing off. But come on, that's awesome.)
Who said to David Willey, "You're cute. Are you single? Who are you?" This was after the ceremony.
And more! So come back, we're uploading furiously. Congratulations to all winners, and to all the nominees - a very impressive year.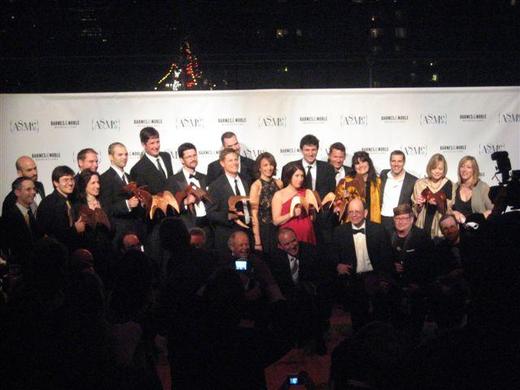 Ellies! The winners gather for a group shot.
Full List of 2008 Winners [HuffPo Media]
Crowing Rights, For Now [WWD]
FBNY Twitter Feed [Twitter]
Related:
National Magazine Award Finalists: Where To Find The Best of 2007 [ETP]