Ellies! It was a great night for magazines, and those tangentially related to magazines like
Anderson Cooper
and
Julian Niccolini
and
Obama Girl
and
Lenny Dykstra
and the kids from "30 Rock" and
Padma Lakshmi
and anyone who
has a thing for
Padma Lakshmi
. We teased it
here
and have the full (and fully-linked) list of winners
here
(with a commenter shout-out to VQR, no less!), but here, as promised, are the photos. But first, a few of our favorite, less-reported moments that we didn't want to escape notice:
The aforementioned Padma — who gave out by far the hottest award, the prize for Fiction. You know, that thing that can raise fire in the loins? The air in the room seemed to thicken. "The sharpest tool an editor has at her disposal is her pen," said Padma, throatily. "Or her tongue." Someone whistled. There was much self-fanning in the back row. Alas, Roger Hodge's acceptance speech for Harper's was not quite as hot.
Four Seasons restaurateur Julian Niccolini, presenting with fellow restaurateur John McDonald of the Royalton and Lever House. Said Niccolini: "My favorite single topic is women. In second place is a rare pinot noir."
It was a great night for food! Adam Moss called Rob Patronite and Robin Raisfeld "the best food reporters on the planet" for their Ellie-winning collaboration with Michael Idov and Emma Rosenblum, whom Moss also shouted-out. Also, Gourmet won for photography. Also, the dessert options were delicious.
Graydon Carter accepting the photo portfolio Ellie for the work of Annie Liebovitz...with nary a mention of Miley. Oh, come on, you saw dancing visions of her naked back, too.
Portfolio won for Magazine Section. A murmur went up from the crowd, one we loosely interpreted as the sound of confused schadenfreude.
First-time winner Atlanta magazine for feature writing, Paige Williams' incredibly moving story, "You Have Thousands Of Angels Around You," about how Cynthia, an orphan from Burundi, somehow built a life in Atlanta after losing her family and everything she'd ever known.
Shout-out to the press gang in the back row: Portfolio's Jeff Bercovici, New York's Jesse Oxfeld, the NYO's Matt Haber, Gawker's Hamilton Nolan, and WWD's Irin Carmon and Amy Wicks. AdAge's Nat Ives and B'week's Jon Fine were sitting in front of us, putting on airs.
Also in that row: Stephen Corey, General Excellence nominee for The Georgia Review. Next year, Ellie, we think you can put the guy a wee bit closer to the front. Which reminds us: Where was the Bulletin of Atomic Scientists this year?
Okay, you win. Photos!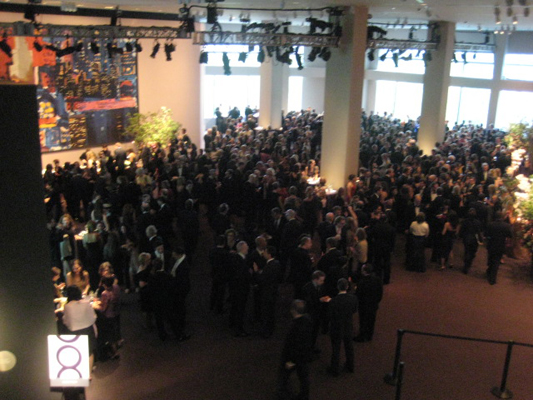 The crowd mingles before the event begins, overlooking lovely Columbus Circle. What else will be overlooked? Read on to find out!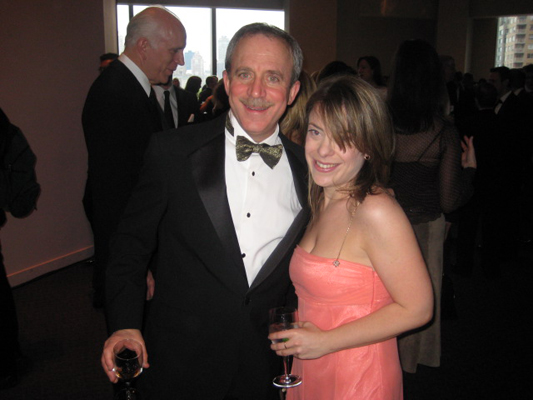 MPA SVP (and MVP) Howard Polskin with Mediabistro Rebecca Fox, pals from way back when Fox interviewed Polskin for this article. They both looked pretty foxy themselves! Sorry, but that was easy and there's no sexy animal called a "Lakshmi".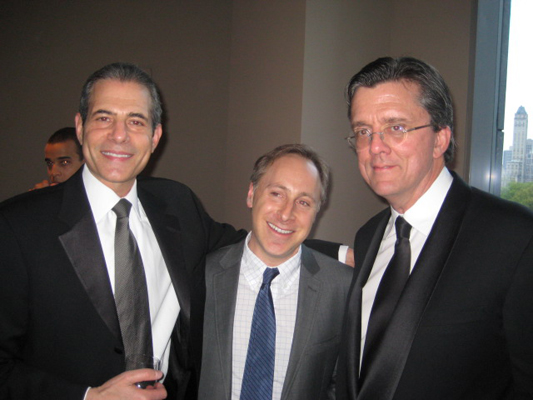 I see thee, nominee (times three!). Time's Rick Stengel (nom'd for General Excellence), Slate's Jake Weisberg (nom'd for GenEx online, and Kurt Anderson (nom'd for Commentary). These guys are all nice, but it's a shame they're not a little smarter.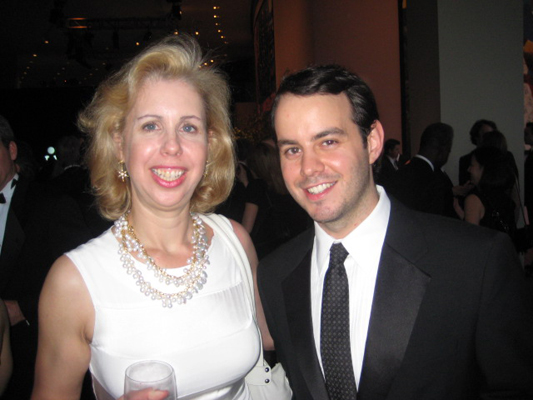 HuffPo media page editor Danny Shea with his former professor, Time's Nancy Gibbs, who taught one of his journalism seminars at Princeton. (Cough last year cough.)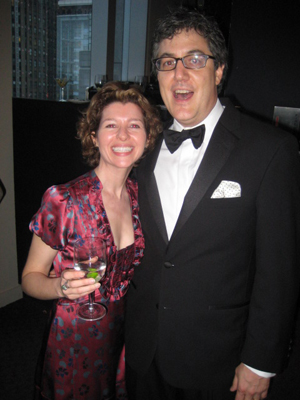 Playboy (and Playboy's) Chris Napolitano and his fiction editor, Amy Grace-Lloyd (looking pretty graceful herself in Marc Jacobs). Look, if you don't like puns, just stop reading. Fair warning.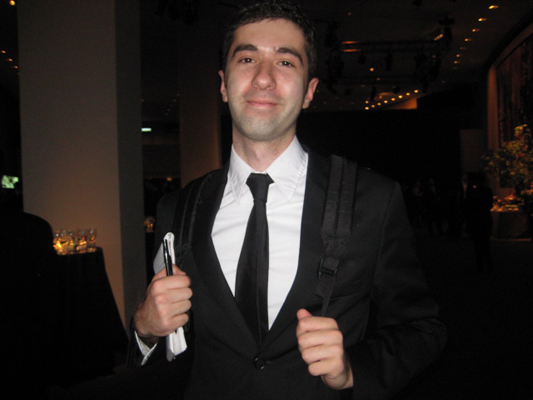 Black(pack) tie: The NYO's John Koblin, dressed for reporting success. I warned you about the puns!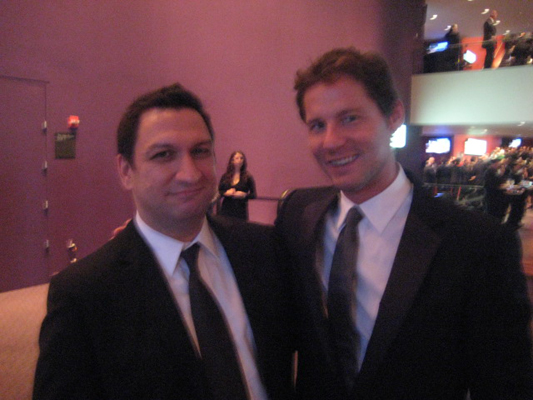 David Zinczenko, Men's Health editor and Ellie nominee (and winner, in his capacity as Rodale SVP, thanks to Runner's World, Bicycling and a stake in Backpacker). WIth Tony Case , special reports editor of AdWeek, which earlier this year awarded Zinczenko "Editor of the Year."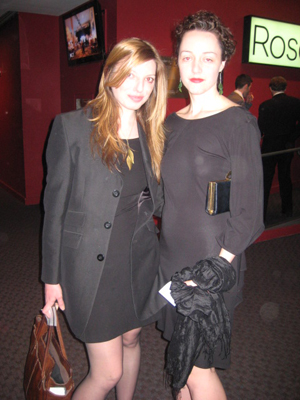 Glynnis MacNicol, the latest fishie in MB's FishbowlNY, with Jezebel's Moe Tkacik, an avid reader of women's magazines. Yep, "avid" works.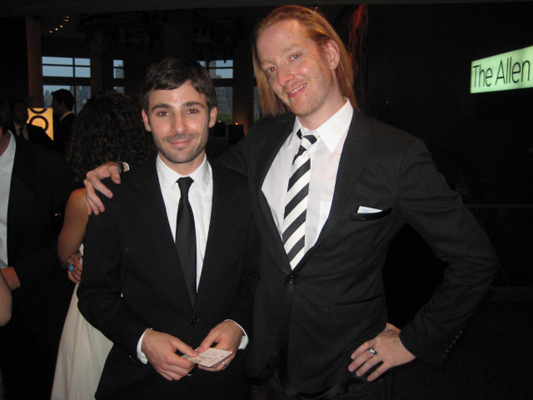 Jeff Bercovici, who last year jumped from the Ellie-nominated Radar to the Ellie-winning Portfolio. Coincidence? Or just the Ellie judging panel, crushing hard? I mean, look at that face. Here he is with Radar photo director Greg Garry, the red-headed stepchild of Radar.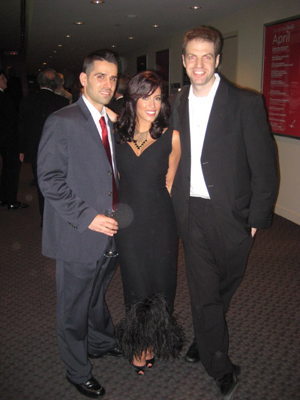 A ripple went through the crowd when she was announced: Amber Lee Ettinger, aka "Obama Girl." Web celebs are exciting! With her boyfriend, Eddie, and Barely Political founder Ben Relles.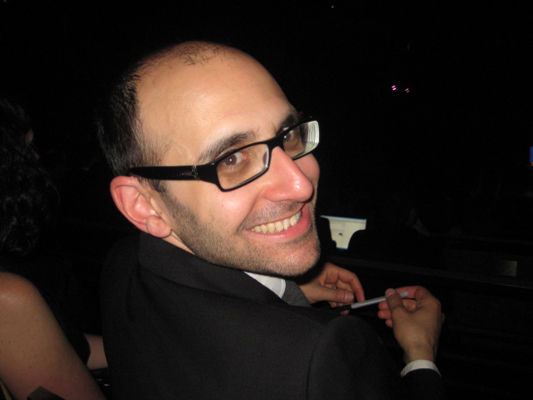 BusinessWeek's Jon Fine, lookin' fine. Congrats on the Ellie, yo!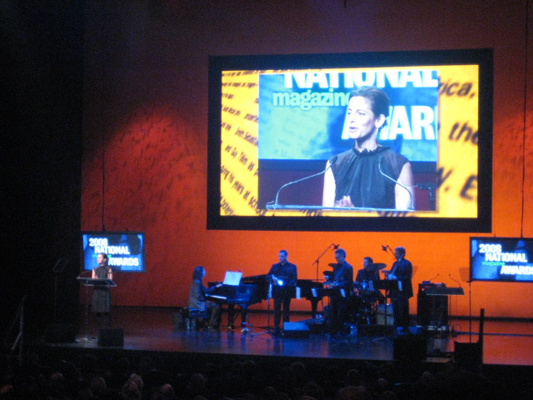 Hail to the Chief: Outgoing (by this time, gone) ASME president Cindi Leive kicks things off by assuring us that she doesn't have time to take an underaged lover in the afternoon. (It's a "Lipstick Jungle" reference, people, and trust me, it makes magazines seem VERY FUN). At the previous day's luncheon, ASME exec director Marlene Kahan had called Cindi "just amazing" and said to incoming prez Willey: "David, you gotta jump."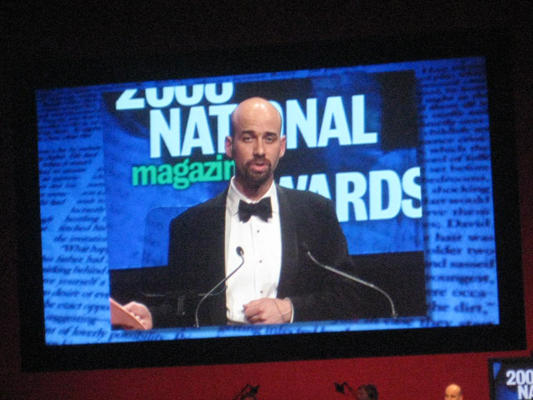 The Atlantic's James Bennet accepts Caitlin Flanagan's Ellie for Reviews and Criticism, saying that she'd been nominated 5 out of the last 7 years and really any of them could have been her year.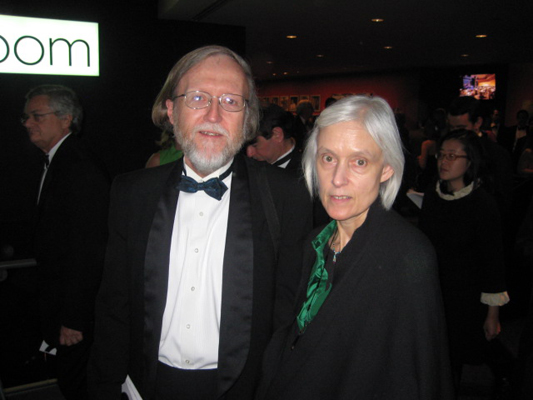 Georgia Review editor and all-around lit superstar Stephen Corey with his wife. They lost out on the General Excellence Ellie to Print but did win last year! And really, it's an honor just to be nominated.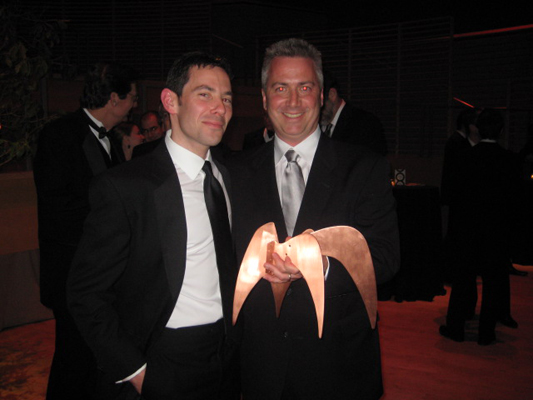 Ellie photo built for two: Bicycling editor Stephen Madden proudly holds his Ellie in tandem with deputy editor Michael Frank. Get it? In "tandem?" Sigh. Forget it. Insert obligatory Queen reference here.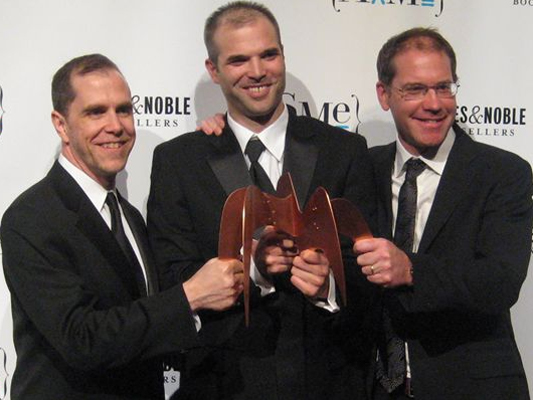 A great night for Matt Taibbi, winner for commentary. He was also a winner in commentary from the ladies after the event. I'm just sayin'.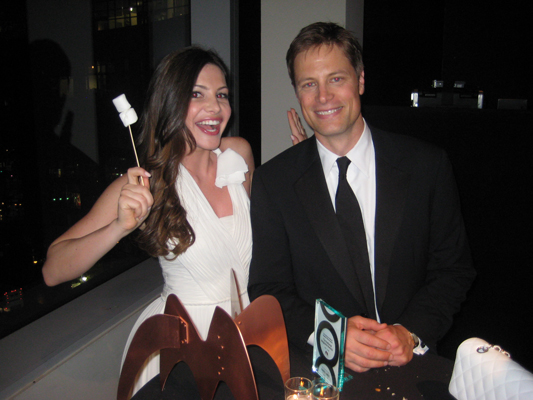 Mystery solved! It was Star editor-at-large Julia Allison who asked incoming ASME prez David Willey, "You're cute. Are you single?" This was after the ceremony, when he'd thrice been up on the stage. Still, he was more than happy to pose with her and her marshmallows.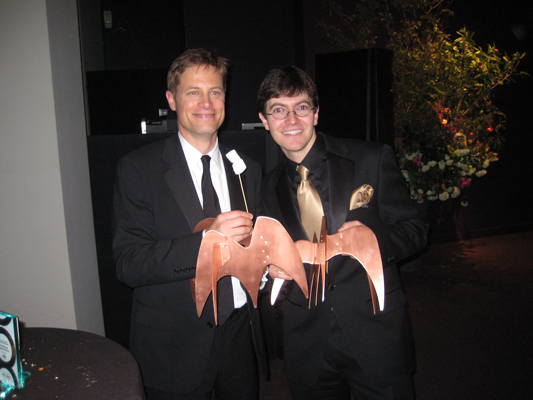 He was also happy to pose with just her marshmallows, and smiley Nation winner Joshua Kors. Julia's marshmallows get around!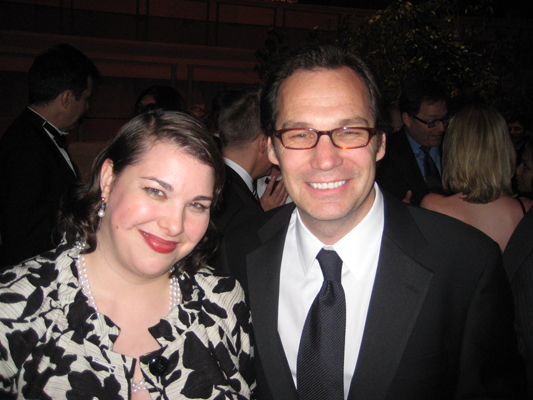 Emily Gordon had a stake in three Ellies that evening: The General Excellence award for Print, where she is a proud member of the team; for the New Yorker, about which she blogs obsessively and with deep love at Emdashes; and the Nation, where she got her start. That's a pretty good night! (She also points out on Emdashes that both New Yorker editor David Remnick and Print editor Joyce Rutter Kaye are each celebrating ten years at the helm of their respective mags. Congrats all around! Here she is with New Yorker Vice President and Publishing Director Drew Schutte, which sounds pretty close to Dwight Schrute.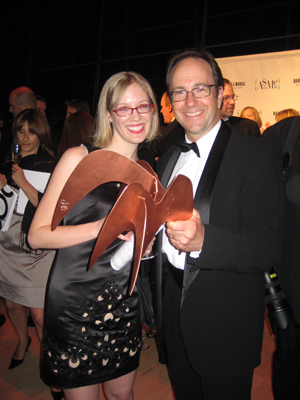 Popular Mechanics had a great night, with a General Excellence nod and two noms in Personal Service — for which they won the Ellie. Here's happy editor James B. Meigs with Hearst PR-ista extraordinaire, Andrea Faville, who used to ping me with regularity when she was at Newsweek. She looked pretty pingy that night! (For a definition of "pingy" find inspiration in Cosmo, one of her mags.)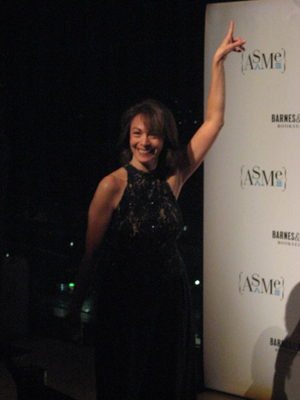 Come On, Marlene! Uh oh. That was meant to be a "Come On, Eileen" reference, and I was all set to run with that lyric until the "you in that dress/my thoughts I confess" line. Well, she does look great in that dress.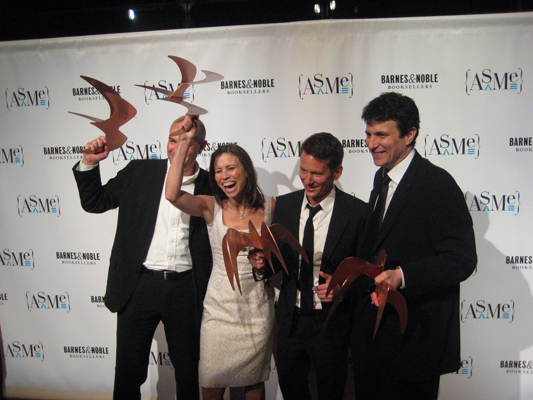 Could Joanne Lipmann look any happier. We're not sure about Chris Anderson because Joanne's arm is blocking his face, but visible crinkles suggest smiling. Also pictured is GQ Ellie-winnner Jim Nelson and New Yorker's Remnick, back on the Ellie photo line where he belongs.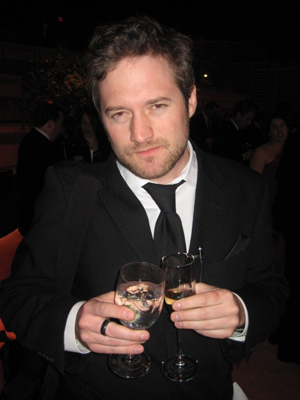 Folio's Dylan Stableford won't be caught empty-handed. No, siree. Nor will he be caught on camera without his patented "blue steel" face.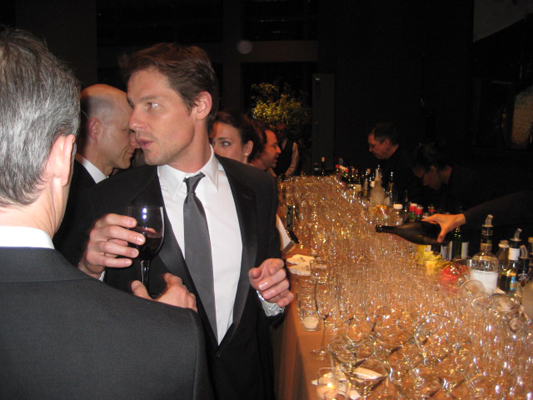 Drink this not that! Dave Zinczenko bellies up to the bar after the ceremony to get drinks for his staff. I wonder if this is the first time that the word "belly" has been used in conjunction with Zinczenko. (Honey, you keep writing diet books, I'll keep making that joke.)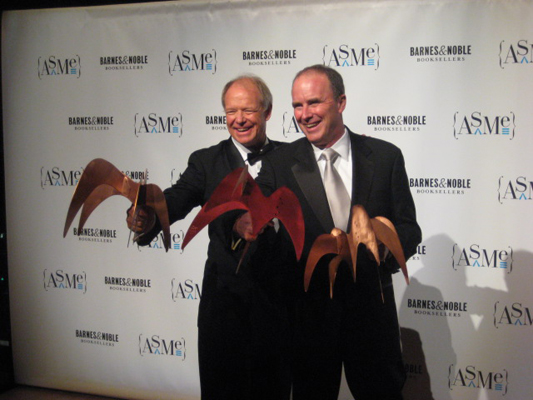 National Geographic was the big winner of the night, taking home three Ellies, including the coveted award for circ over 2 million. Editor Chris Johns also accepted the Ellie for Photojournalism and for Reporting, for Peter Hessler's "China's Instant Cities" (China is the new Iraq and Afghanistan). Johns went up to accept the award for reporting, saying "I can't say enough good things about Peter Hessler." So he didn't say any.

Is it me, or do these Ellies sort of resemble a flock of pterodactyls? (Okay, maybe it's me.)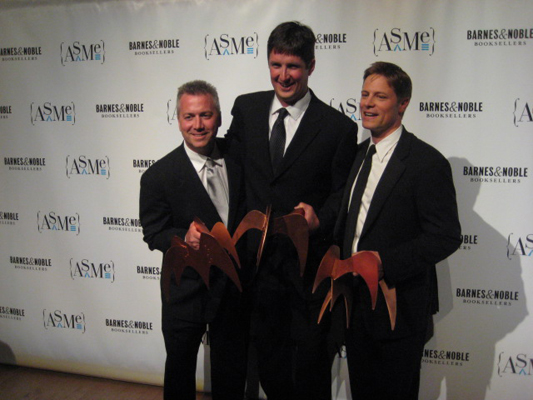 Ellie's athletes! Bicycling's Steve Madden, Backpacker's Jonathan Dorn, and Runner's World's David Willey. First they took pictures with their Ellies, then they devised a complex obstacle course around them, including five laps around the theater, an intense sprint up the stairs to the second floor, and bench-pressing Graydon Carter.

Generally, these people are excellent: VQR's Ted Genoways, Runner's World's David Willey and the very pregnant Mother Jones EIC Clara Jeffery, carrying one heck of a combined load that night (if you think Ellies are heavy...).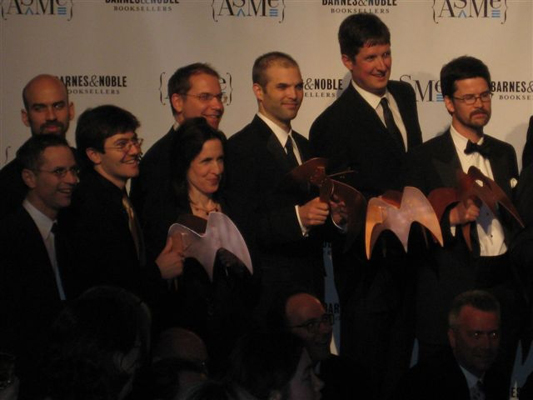 Let the Ellies soar! (That's a play on Katrina vanden Heuvel's favorite song.)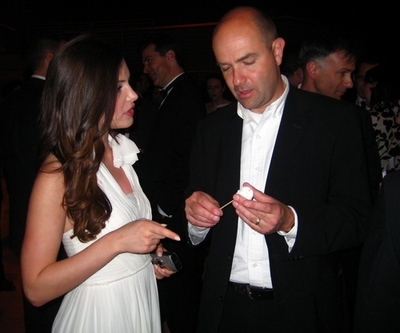 Meanwhile, after the press scrum, Julia Allison was stalking her prey: Wired editor-in-chief Chris Anderson, the one man she refused to leave the Ellies without taking a picture with. After snagging him, and explaining the need for flair (the marshmallow in the picture above), she had to convince him that it was OK to be in a picture with her. Which, of course, she managed, despite his wondering aloud what his wife would think and asking Danny, "What am I supposed to do?" Dunno, dude, ask David Willey.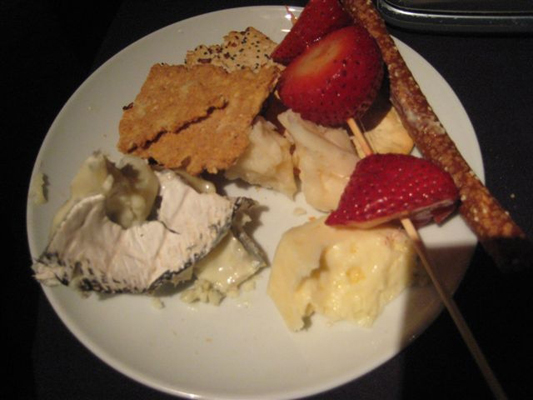 Mmmm, cheese. We hear photos of food do well with this crowd.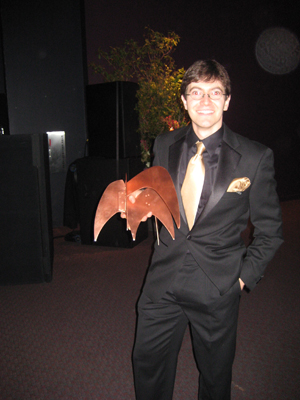 Nation Public Interest award-winner Joshua Kors, whose two-part story (here and here) on how a Purple Heart-winning army specialist was denied medical and disability benefits - along with 22,500 other vets - started with a hunch and ended with real reform in Washington and benefits being restored. Kid was on cloud nine all night and we should know — we were with him. (Nation people! Ellie after-event victory drinks don't buy themselves! Don't worry, we took good care of him.)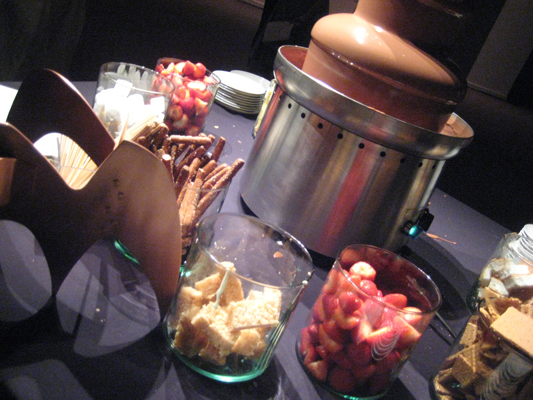 Chocolate fountains and marshmallows and strawberries and graham crackers and rice krispy squares and...pretzels? Actually, the pretzels sorta worked.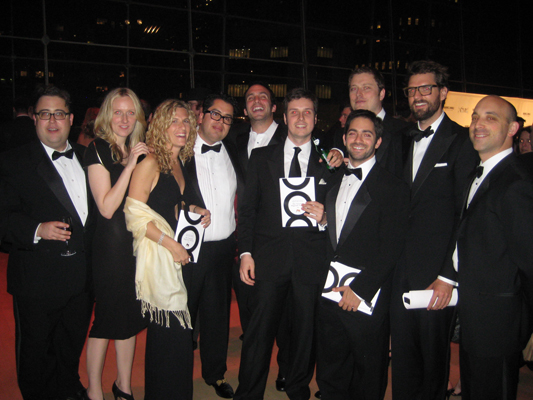 The Gang from Good! Striking another blow for small mags everywhere, Good took two noms in their first Ellie outing. I wish I'd had the presence of mind to get Jon Fine in this picture, that would have been a fun caption. "Celebrating Excellence with Good and Fine!" or something.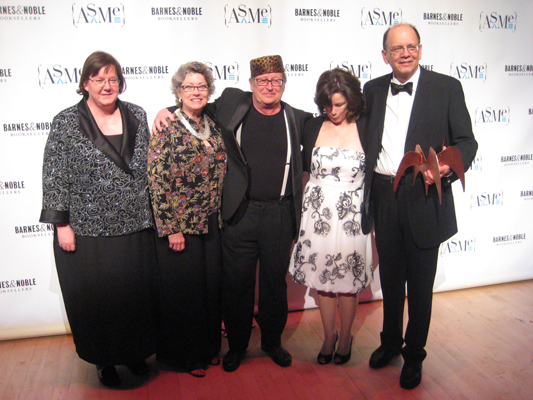 The team from New Letters, including editor-in-chief Robert Stewart (far right) and Thomas E. Kennedy (middle), whose "I am Joe's Prostate" won the Ellie for best essay. They weren't exactly sure where to walk right before posing for this photo (it was their first Ellie), but they made the most of it by whooping it up for several pictures, and by cheering boisterously when Danny greeted them with, "The New Letters Crew!" The night really belonged to the small-mag crowd. We're going to go ahead and include Portfolio in that.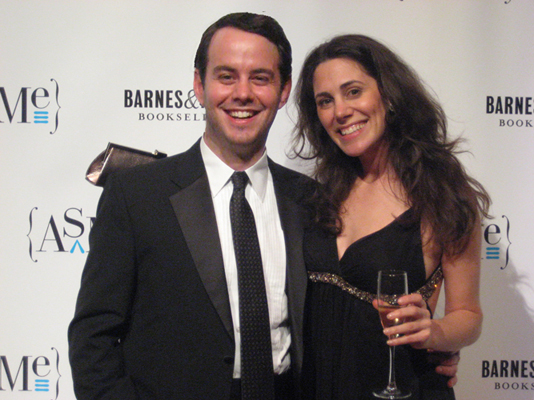 Your ETP team: Danny Shea and Rachel Sklar. Seriously, they'll let anyone pose in front of that Ellie background.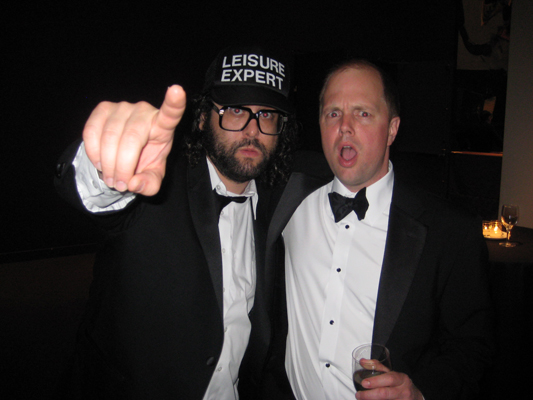 Judah Friedlander of "30 Rock," wearing his "Leisure Expert" hat, custom-designed to present the Ellie for Leisure Interests, along with former Time Out Chicago editor Joel Reese, a nominee in that category. Friedlander promised to wear a cap bearing the words "Blog Expert" for an upcoming 30 Rock, which would be awesome.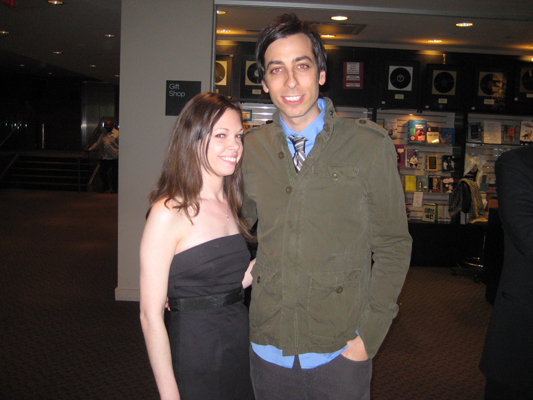 One more 30 Rock presenter: Lonny Ross, here with the MPA's Nina Fortuna. Did we see a digits exchange? We think we did! Lucky Lonny, we're big fans of that Nina.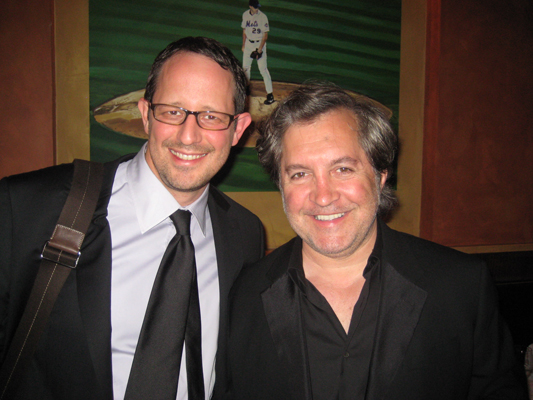 Men's Health design guru Joe Heroun and production manager John McCarthy, at the Rodale after-drinks at Gabriel's across the street, where we joined for a little post-party conviviality.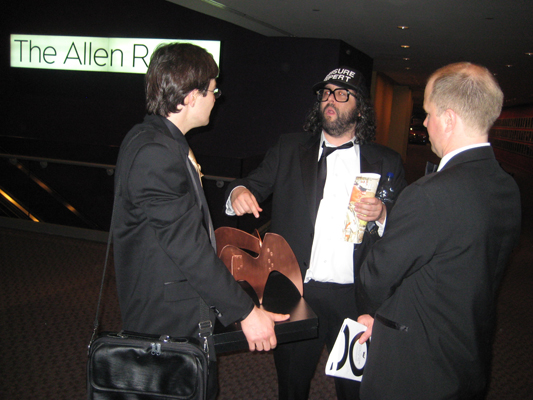 The bitter end: We were the last to loiter (we kill parties until the last marshmallow's been packed away), along with the 30 Rockers, plus Reese and our pal Joshua Kors, the last, lone Ellie winner in the place. Kors came prepared — in that briefcase were packets (in color!) of his Ellie-winning articles, which he helpfully distributed to interested persons. The last we saw of Joshua was at Gabriel's, holding court at a table in the back with a bunch of new friends. That kid's goin' places.
All photos by Rachel Sklar, including the ones taken in the auditorium for which I almost got kicked out. Mystery solved!