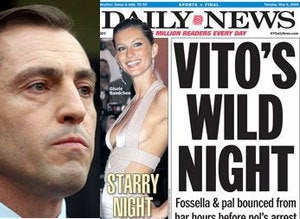 Disgraced New York Congressman Vito Fossella broke down in tears on the floor of the House of Representatives today, apparently under the emotional weight of his recent behavior.
Fossella acknowledged on Thursday that he had fathered a daughter, now three years old, with a woman who wasn't his wife. News of his adultery came just a week after the Staten Island Republican was arrested for drunk driving in suburban Virginia.
Appearing on the House floor today, Fossella broke down when talking with House Chaplain, Reverend Daniel P. Coughlin, a Hill source who witnessed the event told The Huffington Post. The episode occurred shortly after the congressman voted against the Neighborhood Stabilization Act of 2008, a housing bill that passed through the House by a 239 to 188 vote.
Fossella's political and legal future is currently up in the air. He is expected to appear in court next week and could face jail time if convicted for his drunk driving charge.
"A police report in Alexandria, Va., a suburb of Washington, said that Mr. Fossella ran a red light on Thursday just after midnight and had a "strong smell of alcoholic beverage" when he was pulled over. According to the report, Mr. Fossella told the officer that he was on his way to pick up his daughter, who needed to go to the hospital, although on Friday he said that he had been on his way to visit friends.
The report said Mr. Fossella failed several sobriety tests on the street, including a preliminary breath test on which he registered a blood alcohol level of 0.133 percent. After he was arrested, he recorded a level of 0.17 percent on another machine. The legal limit in Virginia, as in most states, is 0.08 percent."