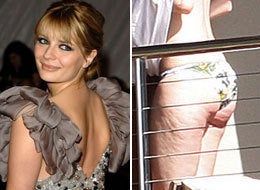 Mischa Barton says someone has been retouching her thighs.
The fetching starlet is doubly horrified by a new batch of paparazzi beach shots - because they show not only her breasts, but legs that appear to be riddled with cellulite.
"Those photos are doctored," Barton's rep, Lisa Perkins, tells us. "I'm not saying she's perfect, nobody is. But they've given a 22-year-old woman the legs and bottom of an 80-year-old."
"Look at the shots that were taken shortly before on a beach in L.A. Did she develop all that cellulite in a couple of weeks? There's a lot you can do with Photoshopping." ...
Barton's publicist contends that Aussie photographer Jamie Fawcett - whom she calls a "parasite" - is out to make the former "O.C." star look bad because "she called him out for taking the topless shots."
Fawcett argues, "I wouldn't seek to publicly embarrass her with nudity or health issues or body image issues.

Keep reading