It's a well-known fact that women can always learn from their Francophone counterparts. And this time its the menfolk who are getting the tutorial.
Over at Details, Hermès menswear designer, Varonique Nichanian offers men 10 tried-and-true tips for dressing and looking their best.
She touches on weekend getaways (including the importance of passionate gestures) and outlines the perfect packing list:
For a weekend away, a man should bring a simple shirt, two cashmere sweaters, three polos, and one pair of jeans. For shoes, either sandals or light leather moccasins--just the essentials.
And like any and every good French woman, she stresses the necessity of the watch:
You should have one watch for the weekend, one for the week, one for suits, one for sport. I love watches. Watches are for men what perfume is for women. They are very personal, and you can wear them according to your mood.
And while four watches may seem extreme, you can also find one good watch to suit all your moods. A watch is an wise investment, and most definitely worth the splurge.
All in all, her advice is sage and has proven to be entirely effective. After all, neither of these two are really all that French (his father's Hungarian, and she's a born and bred Italian), but they've definitely mastered the art -- and now look at them!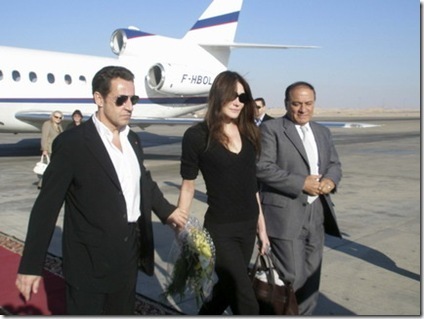 French President Nicholas Sarkozy and First Lady Carla Bruni exiting a plane in Egypt
What do you think of her advice? Agree? Disagree? Got any fashion advice of your own?
And, if you're only in it for the French women, find out how French women are the new "sexual predators" here.
-or-
See what else you can learn from them here.