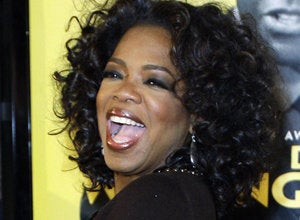 After hosting self-help author and personal growth and spirituality counselor (and Huffington Post blogger!) Kathy Freston on her show this week, Oprah is adopting her suggestion of a 21-day cleanse. People.com reports on Oprah's detox:
The talk show host, 54, is going vegan for a 21-day detox plan. In addition to swearing off animal products, Winfrey and three pals from her production company are also banning caffeine, sugar, gluten and alcohol.

What inspired the massive menu overhaul? The small-screen queen credits Kathy Freston's book Quantum Wellness and online sessions with Canadian motivational speaker Eckhart Tolle. (She's also getting help from chef Tal Ronnen.)
Watch Oprah and Kathy discuss the detox on Wednesday's show:
<2--1568146038--hh>2--1568146038--hh>
So far, Oprah has blogged about her vegan detox twice. On Sunday, she wrote:
So this 21-day cleanse gives me a chance to think about it differently and see what my attachments are to certain kinds of foods--and what I'm willing to do to change.

Don't know if I'm going to feel better or worse, but I'm willing to try to see if my body at least feels differently.

So this first day wasn't hard at all. For breakfast, I had steel-cut oatmeal with fresh blueberries, strawberries, chopped walnuts and a splash of soy milk and some agave nectar. For lunch, chunky mushroom soup with wild rice and pecans. As a snack, a handful of roasted almonds. And for dinner, a baked potato drizzled with olive oil, salt and pepper with a salad of shredded lettuce, cranberries, pine nuts and tiny orange slices with a vinegar and oil dressing.

Very satisfying. Day 1 also started with the meditation mantra that Kathy suggests in her book. I'm ready!

Well, I feel like I got baptized in Vegan Land today. Kathy Freston sent her chef, Tal Ronnen, to help me and three friends at Harpo who are doing the 21-day cleanse.

Wow, wow, wow! I never imagined meatless meals could be so satisfying. I had been focused on what I had to give up--sugar, gluten, alcohol, meat, chicken, fish, eggs, cheese. "What's left?" I thought. Apparently a lot. I can honestly say every meal was a surprise and a delight, beginning with breakfast--strawberry rhubarb wheat-free crepes.
Oprah will continue to blog about her detox at Oprah.com.