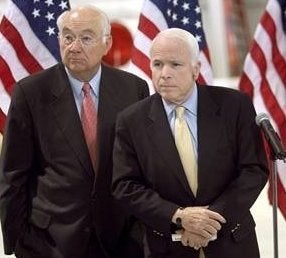 An MSNBC exclusive aired on Countdown with Keith Olbermann Tuesday evening revealed potentially explosive news about McCain co-chair Phil Gramm's lobbying activities:
Republican presidential candidate Sen. John McCain's national campaign general co-chair was being paid by a Swiss bank to lobby Congress about the U.S. mortgage crisis at the same time he was advising McCain about his economic policy, federal records show.

"Countdown with Keith Olbermann" reported Tuesday night that lobbying disclosure forms, filed by the giant Swiss bank UBS, list McCain's campaign co-chair, former Texas Sen. Phil Gramm, as a lobbyist dealing specifically with legislation regarding the mortgage crisis as recently as Dec. 31, 2007.

Gramm joined the bank in 2002 and had registered as a lobbyist by 2004. UBS filed paperwork deregistering Gramm on April 18 of this year. Gramm continues to serve as a UBS vice chairman.