The News Corp-MSNBC feud continues,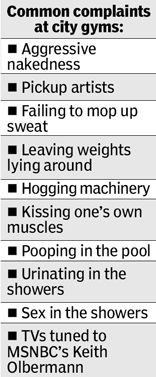 as the New York Post has found another way to hit Keith Olbermann: including him in an infographic of common complaints at New York City gyms.
Listed among "aggressive nakedness," "pooping in the pool," and "sex in the showers," is "TVs tuned to MSNBC's Keith Olbermann."
Last week, the Post's Page Six targeted Olbermann over back taxes owed by his corporation, Olbermann Broadcasting Empire, Inc.
As mentioned last week, this is all part of an ongoing feud between the White House/News Corp and GE/NBC News/MSNBC. Three weeks ago, the Washington Post's Howard Kurtz reported that News Corp was unleashing Bill O'Reilly on GE (parent company of NBC) to retaliate for comments made by Olbermann. That same day, a negative item about Olbermann appeared in Page Six. Shortly thereafter, the White House attacked NBC News for selectively editing Richard Engel's interview with President Bush.
For a primer on the feud between the two networks/companies, click here.