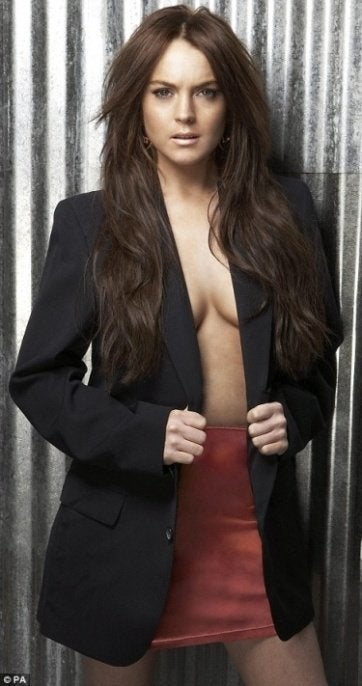 Lindsay Lohan dares to wear second-hand! Yup it's true. The reformed party girl wants to be 'clean' and 'green.' She's kicked her habit (at least for the moment) of buying new designer duds for a more eco-statement with vintage threads. The actress is spotlighting recycled fashion as part of the UK's Visa Swap campaign. The idea is to get folks to trade in their unwanted clothes and cutdown on future fashion purchases by buying second-hands gems instead.
More On Green Celebs . . .
Ringo Starr's Birthday Wish:
...All Ringo Starr wants for his 68th birthday is "more peace & love." The music icon told Access Hollywood he would love to see everyone, everywhere, wherever they are, at noon on July 7th make the peace and say "Peace & Love." ...So pass it on. And make Ringo's mission a reality. "Let's see if it works. I'm leaving it up to you," reveals Ringo.
accesshollywood
John Mayer's Green Concerts:

Not that we need another reason to dig John Mayer -- but his eco efforts make him even more adorable. The singer is taking baby steps to make his concerts an earth-friendly event. For starters... his tour buses will be wind powered and use biodiesel fuel, concert swag will be eco-friendly, and there will be an eco-village at his venues to help educate his fans.
World's Sexiest Vegetarian:
...The votes are in! It's official - pop star Leona Lewis is the world's sexiest vegetarian celebrity of 2008 - this according to PETA. The sexy British singer beat out other hot veggies, like Natalie Portman, Alicia Silverstone, and Christie Brinkley. "I am vegetarian so I don't have clothes, shoes or bags made from leather or suede, or any animal products... I'm on a mission," attests Leona.
Via: peta
Alicia Silverstone's Green Dog:

...She may not be the world's sexiest vegetarian (better luck next year), but Alicia is working to make her dog's world greener. This dedicated greenie told UK TV host Graham Norton she put her four dogs on a vegan diet. ...As a perk of the dogs' no-meat diet, Alicia swears, "They don't fart anymore." ...Just putting it out there!
Thanks: ecorazzi