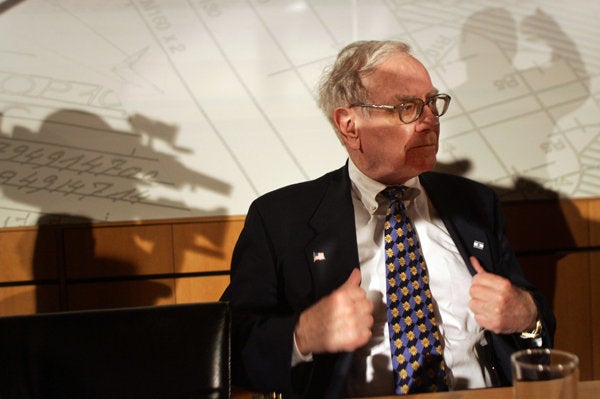 The news media has reported ad nauseam that Anheuser-Busch's (BUD) most recognizable shareholder is in favor of the $65/share InBev buyout. (Us, too). However, on CNBC today, Buffett said he has never said anything about the takeover. This doesn't mean he doesn't support it, of course--just that he's too smart to say so publicly if he does.
QUICK: YOU'RE THE LARGEST SHARE HOLDER IN ANHEUSER-BUSCH. INBEV MADE A
BID FOR BUD. AND THERE ARE A LOT OF PEOPLE TRYING TO FIGURE OUT IF YOU
THINK THAT IS A GOOD OFFER. WHAT DO YOU THINK ABOUT IT?

BUFFETT: WHEN WE GET THROUGH THE INTERVIEW, A LOT OF PEOPLE WILL BE
TRYING TO FIGURE THAT OUT. I'VE BEEN -- ALL THESE THINGS HAVE BEEN
REPORTED. I HAVE NOT TALKED TO ANYBODY ABOUT IT.I'VE BEEN REPORTED TO IN
ST. LOUIS. THERE IS ABSOLUTELY SOME DOUBLE OF ME RUNNING AROUND ON
THERE. I CAN'T IMAGINE ANYONE LOOKING LIKE ME. BUT IF HE'S OUT THERE,
HE'S APPARENTALLY IN ST. LOUIS AND HE'S APPARENTLY OVERTALKING TO INBEV.