What would have been ironic thirty years ago is poetic now: Groundbreaking comedian George Carlin, who died last month, was honored by the United States Congress with the flag that flew over the Capitol on June 23, 2008, the day the world awoke to learn that he had died. That flag was sent to Carlin's partner, Sally Wade (or "wife, without papers," according to his representative, Jeff Abraham), along with a certificate of authentication.
It's a nice gesture for someone who challenged authority so completely that he kicked off a First Amendment case that went all the way to the Supreme Court. Carlin's "Seven Words You Can't Say On Televsion" (no, not "nuts") , was played in full on a radio station in New York City. A man listening with his young son filed an FCC complaint and the rest is history — the history of FCC v. Pacifica, the Supreme Court case that decided by a narrow margin that the FCC had the right to determine/regulate obscenity on the airwaves (Pacifica was the company that owned the station). Carlin, who was himself not involved in the case, was nonetheless seen as groundbreaking then and throughout his career, during which he continued to push the envelope and question social mores and hypocrisies.
It's a nice tribute for Carlin, and a nice mark of respect and acknowledgment for what he stood for: Boldness, comedic daring, and a refusal to kowtow to disapproving critics.
Now. This has nothing to do with the New Yorker cover, per se. But perhaps it can serve as a reminder that context and timing are significant, and that art is sometimes meant to challenge, question, push and — yes — satirize. Who knows whether Carlin would have liked the New Yorker cover, but I bet he would have loved what it has provoked.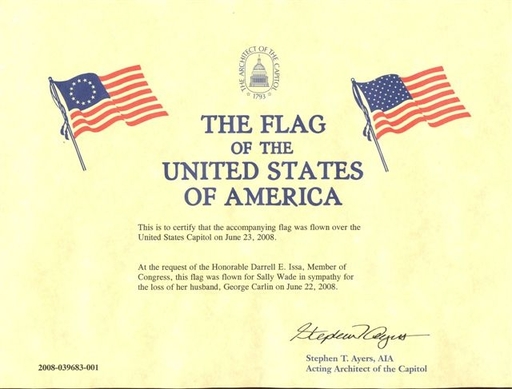 George Carlin Dead At 71: "It's A Wonderful Feeling To Have Found Something You're Good At, That You Love To Do" [ETP]
George Carlin Reads More Blogs Than You Do [ETP]
Video Highlights From Carlin's Career [HuffPo]