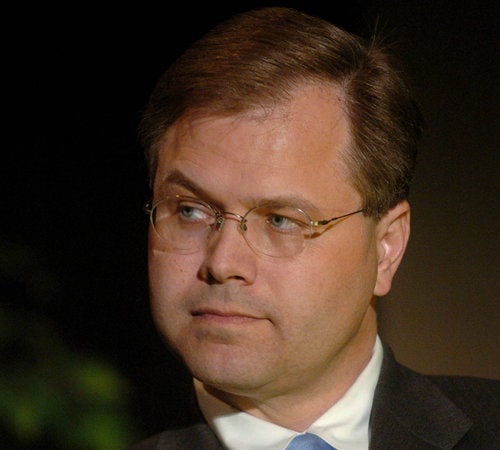 Colorado Senatorial candidate Bob Schaffer acknowledged today that he knowingly arranged an oil deal in the Kurdish region of Iraq that was counterproductive to American interests in the region. He argued that the deal was allowed under Iraq's federal system, and so he felt comfortable pursuing it.
Schaffer, a Republican, came under heavy criticism in recent weeks for arranging the deal, because U.S. officials said it would be damaging to the tenuous oil-revenue sharing agreements that the Iraqi government was, at the time, putting together.
Initially, Schaffer denied he was aware State Department officials had warned against such an arrangement, despite the fact that objections from Condoleezza Rice and President Bush were highly public.
But on Thursday, the Colorado Republican changed his tune, acknowledging, according to the paper the Pueblo Chieftain, that "U.S. officials in Baghdad did not want U.S. oil companies doing business directly with the Kurds."
"It's troubling enough that Bob Schaffer flew into Iraq in the middle of the war, not to support our troops, but to cut a money-making oil deal that undermined the mission our troops were fighting for," said Tara Trujillo, campaign spokeswoman for Schaffer's Democratic rival, Mark Udall. "But now we see he won't even give Coloradans a straight answer on what he knew and when."
Schaffer initially traveled to Iraq in November 2006 to lay the groundwork for an oil deal in the Kurdish regions for Aspect Energy, his former employer. Previous deals like Aspect's had drawn disapproval from President Bush. And the nonpartisan Government Accountability Office reported that the Iraqi government viewed foreign deals like the one Aspect was arranging as "illegal."
Schaffer continued to work on the Aspect deal while officially a candidate for the United States Senate. For his labor he earned a $160,000 salary from Aspect Energy in 2007, and a $226,000 severance package when he left the company after conclusion of the deal.
His initial claims of ignorance that the Aspect deal was against U.S. interests were highly dubious, as the Huffington Post reported two weeks ago:

Throughout that time period, Iraqi officials, including the country's oil minister, were expressing fears that Kurdish oil ambitions would result in open political conflict within the Iraqi state. Additionally, the State Department wrote a letter to Congress stating that any contract signed between a foreign energy company and the Kurdistan Regional Government would elevate tensions.

...

What makes the issue so damaging, critics allege, is not just that Schaffer is claiming he was unaware of the concerns of the President, State Department and Iraqi officials, but that he was doing this all at the same time that he was officially running for Colorado's Senate Seat.