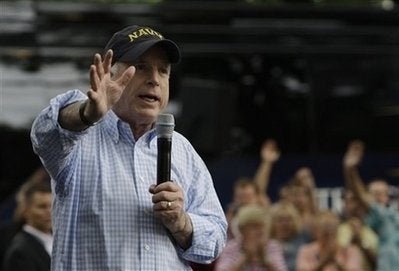 UPDATE JULY 22: McCain campaign sources confirm to CNN that there have been discussions high in the campaign about naming a running mate this week. They also say that, whether or not the announcement is made, the choices have been "narrowed" to the point where McCain could make a decision that soon.
Sources close to Sen. John McCain's presidential campaign are suggesting he will reveal the name of his vice presidential selection this week while Sen. Barack Obama is getting the headlines on his foreign trip. The name of McCain's running mate has not been disclosed, but Mitt Romney has led the speculation recently.
The news set off a flurry of reporting, with Politico's Jonathan Martin appearing to throw some water on Novak's story:
John McCain has narrowed his vice-presidential possibilities to the point where he considered a decision this week -- but he's likely to hold off, say sources close to the campaign.

The prospect of stepping on Barack Obama's much-anticipated overseas trip with the headline-grabbing news was discussed among the small inner-circle of McCain aides and advisers privy to the running mate decision, according to a McCain source. [...]

One inner-circle McCain adviser said the longtime plans are to name the selection close to the Republican convention, on the theory that all that really matters is the final sprint to Election Day.

"No one is panicking about this week," the adviser said. "Frankly, it is excellent for the press to be getting Obamamania out of their system."
John McCain will huddle with vice presidential aspirant Bobby Jindal during a trip to New Orleans later this week, sources close to the campaign confirm to The Fix.

McCain's trip to Louisiana on Wednesday was the cause of much head scratching in the political world as it was not in keeping with a week of planned stops in battleground states.

But, the meeting with Jindal, who has been the state's governor since 2007, suggests that McCain himself is deeply engaged in the process of picking his second-in-command and that the youthful Jindal is under serious consideration.