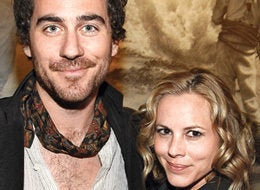 Actress Maria Bello is engaged to musician/waiter Bryn Mooser, her rep confirms to Usmagazine.com.
Bello, 41, and Bryn, 28, announced the news in her hometown paper, The Norristown Times Herald of Norristown, PA.
They "fell in love over a sheer passion of politics, Africa and crypto-zoology," the paper reported.

"He's beautiful inside and out--a great human being," she says of Bryn, who is a musician, artist and part-time waiter. "He has more character in his little finger than any man I've ever met." They met at the restaurant he worked at near her home. "We had been looking at each other," she says. Then last March, at a meal for her cousin's birthday, Maria made a move. "I had a couple of drinks, so I felt brave. I walked up and said, 'Can you take this cake and put a candle in it? And by the way, do you have a girlfriend?' From that night on, we've been together."

Her relationship with Bryn, 28, is going so well, he's changed her view on marriage. "I was always anti-marriage," she admits. "I didn't understand monogamy. I couldn't figure out how that could last. And then I met Bryn and I started to understand the beauty of constancy and history and change and going on the roller coaster with someone--of having a partner in life."