***Check Back For Updates***
For the latest Olympics news, check out HuffPost's Olympics Big News Page
Update 8/12
LeBron James dominated a game against Angola, which the U.S. Olympic basketball team ended up winning handily.
BEIJING -- LeBron James and his teammates easily shoved Angola aside. Now come the teams that can push back.

Dwyane Wade scored 19 points, James dominated the game with his size and strength on both ends, and the U.S. Olympic team wrapped up the easy portion of its schedule with a 97-76 victory Tuesday night.

Dwight Howard added 14 points and James finished with 12 for the Americans, who had another rough night from 3-point range but don't appear to be stoppable in the open court. Wade was perfect from the field in Beijing until missing in the third quarter.
Update 8/10
The U.S. Olympic basketball team blew out the Chinese in the opening game, beating them by over 30 points:
The U.S. Olympic basketball team treated President Bush and perhaps a billion more fans to a game to remember.

With LeBron James and Dwyane Wade soaring for dunks that thrilled the raucous crowd at Beijing's basketball arena, the United States pulled away for a 101-70 victory against host China on Sunday night.

Wade scored 19 points and James had 18 for the Americans in one of the most highly anticipated events of these Summer Games.

Houston Rockets All-Star Yao Ming scored 13 points for China.
Check out video of Bush in the huddle with the U.S. basketball team.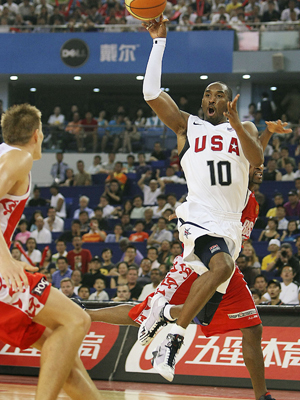 Reasons why you should be watching the US Olympic Basketball Team: Kobe Bryant, LeBron James, Paul Pierce, Dwyane Wade, Chauncey Billups, and Jason Kidd. The team's lineup this year seeks to redeem the glory of 1992's Olympic "Dream Team" and already has a similar nickname: The Redeem Team. LeBron James has guaranteed that this year's team will bring the title back to the US. Not on the team, of course, is Yao Ming, whose Olympic affiliation with China has been non-negotiable since he first joined the NBA in 2002.