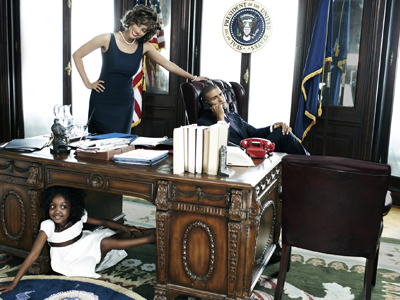 From
Harper's Bazaar
:
Tyra Banks is sitting on the huge corner sofa in her office in New York, impressing on her interviewer the fierceness of Abigail Adams. Resisting the obvious choice of Jackie Kennedy ("although she was a fox"), it's the second first lady who has Banks in awe. "I watched the John Adams series on HBO, and I was so taken by her that I Googled everything I could," she explains, straightening the folds of her businesslike-but-bodacious Zara sundress. "She stood up for women. She was able to speak her mind about women's issues with her man, and he actually, truly listened to her."

Today, though, it's a rather more modern potential first lady who has Banks compelled. When it came to paying homage to Michelle Obama for this story, Banks found the process "surreal." "It's kind of embarrassing," she confesses, "but in my early 20s, I used to want to be a princess. But I didn't want to have to marry somebody in order to do it! Of course, I don't see the position of first lady as a princess, where it's something you have to marry into. With Barack Obama, his becoming president is them becoming president because Michelle was there from the beginning. Without Michelle, he wouldn't be there." Or, as she pronounces to her Tyra Banks Show camera after her Oval Office portrait, "Michelle Obama, you're one hot mama."
Click here to see the entire shoot.