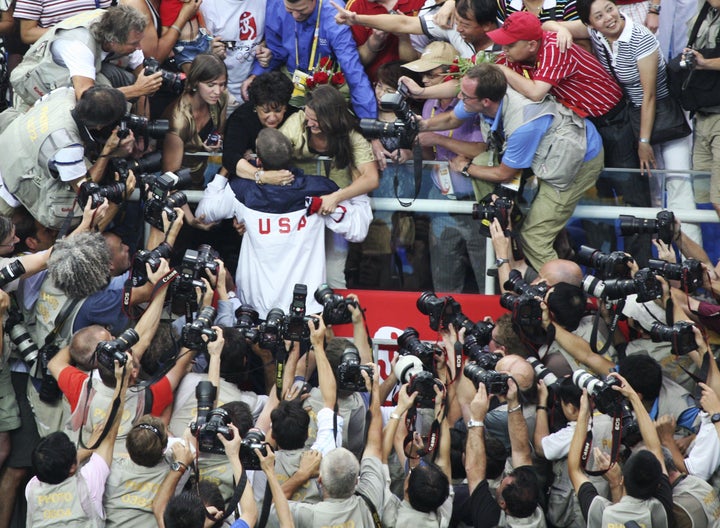 Phelps' dad, Fred, admitted to The Post that he has not had a single conversation with his Olympian son since Michael left for Beijing.
And eight medals later, Michael still has nothing to say.
"He's so busy, I'm sure not even his agent can get a hold of him," Fred told The Post yesterday outside his home in the Baltimore suburb of Linthicum Heights, when asked why he had not yet made any attempt to congratulate his record-setting son...
"I'm very proud of him and all he's done," Fred said as he aimed to deflect attention away from the severed relationship. "This is not about me, it's about him."...
Although he didn't hop a plane for Beijing to see his son compete, the elder Phelps said he "watched [Michael] every night on TV" last week...
Michael has never publicly acknowledged his father as having any role in his success.
"The person I love the most is sitting in the front row - my mom - for everything she's done," Michael told reporters Monday in Beijing.
Read an article from the Baltimore Sun on Michael Phelps Dad, a policeman in the Baltimore area who divorced Phelps' mom Debbie when Michael was 9:
Childs Walker, spoke with Fred Phelps this week to request an interview. Fred thought about it, and I think he probably handled the request as well as he could. He declined, saying he didn't want to take away from his son's accomplishments by delving into the family story.

"This is just about Michael," he said. "This is his glory, his time to shine, and I want him to get everything he wants."

Rest assured, while Phelps is in the Beijing pool, his father is paying close attention, cheering from back in Maryland.

"I'm just on pins and needles every time he hits the water," Fred Phelps said.