***SCROLL DOWN FOR PHOTOS OF LEVI JOHNSTON AND BRISTOL PALIN***
UPDATE 12/29: Levi Johnston and Bristol Palin's baby son Tripp was born on Sunday, December 28th.

UPDATE 12/19
The Anchorage Daily News reports that Sherry Johnston, mother of Levi Johnston, was arrested on Thursday:
A 42-year-old Wasilla woman was arrested Thursday at her home by Alaska State Troopers with a search warrant in an undercover drug investigation. Sherry L. Johnston was charged with six felony counts of misconduct involving a controlled substance.

***UPDATE****
See Levi Johnston's tattoo "Bristol" on his finger

WATCH HuffPost's Video Footage: Levi Johnston And Track Palin Join Family In St. Paul
Some Bristol Palin photos
-and-
More new Levi Johnston photos in a slideshow

***UPDATE***
People magazine reported that Levi Johnston, Bristol Palin's boyfriend, will be attending the GOP convention to be with the Palin family.
Bristol Palin's baby daddy has been revealed to be 18 year-old Levi Johnston. Sarah Palin announced that her 17 year-old daughter is five months pregnant Monday. Read More at HuffPost's Sarah Palin big news page.
According to The NY Daily News:
Doe-eyed Bristol Palin, 17, and ruggedly handsome Levi Johnston, 18, have been dating for about a year, locals in their hometown of Wasilla, Alaska, told the Daily News...

..."They've been together quite a while, more than a year," she said. "I hope everything comes out well. These are local kids."

Johnston, broadchested and wearing a No. 15 jersey, can be seen in photographs hitting the boards as a Warrior in action.

A closeup shot shows the handsome teen with a light dusting of whiskers on his chin - his dark brown hair curly and wet.

"Levi has got huge potential," Jennie Johnston said. "He's a smart kid."
The New York Post has excerpts from Johnston's MySpace page:
On his MySpace page, Johnston boasts, "I'm a f - - -in' redneck" who likes to snowboard and ride dirt bikes.

"But I live to play hockey. I like to go camping and hang out with the boys, do some fishing, shoot some s- - - and just f - - -in' chillin' I guess."

"Ya f - - - with me I'll kick [your] ass," he added.

He also claims to be "in a relationship," but states, "I don't want kids."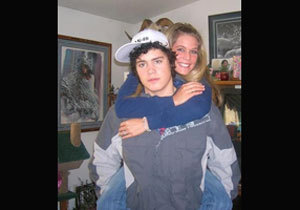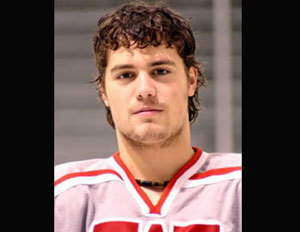 Here are Levi, Bristol and Trig Thursday of the RNC: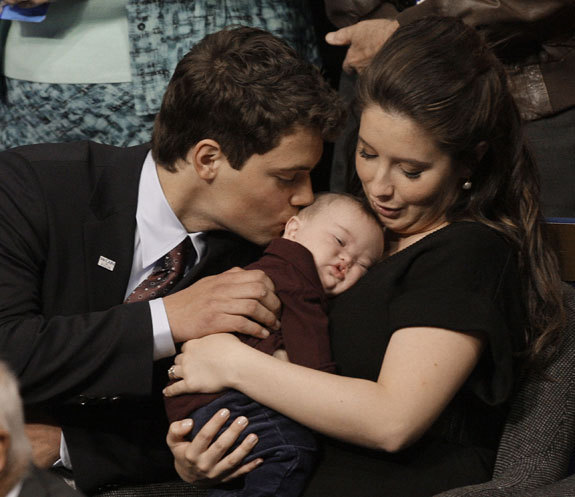 A recent photo of Bristol Palin (first on the left), her family (brother Track is absent), John, Cindy and Meghan McCain.