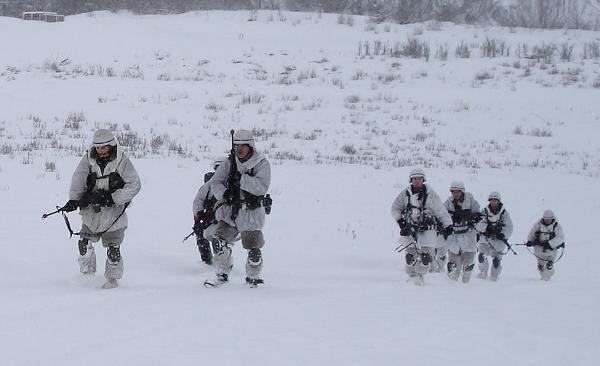 Okay. Cast your mind back to two nights ago, when CNN's Campbell Brown, persistently and determinedly, went after McCain spokesman Tucker Bounds on a simple question: "Can you tell me one decision that she made as commander in chief of the Alaska National Guard?" Bounds didn't answer the question, and not because he needed to check with whoever is in charge of keeping count of McCain's homes, where the Alaska National Guard will be quartered after the Roberts court suspends the Third Amendment. He couldn't answer the question because the answer is that Palin has never personally ordered the state guard to do anything. Or, as this article from McClatchy puts it:
Bounds couldn't, because Palin has never personally ordered the state guard to do anything.
McClatchy's source for the reality of Palin's Commander-in-Chief acumen is Maj. Gen. Craig Campbell, the Alaska Guard's service commander. He points out what most of you already know, that when the AK Guard is deployed overseas, it's President Bush who commands it. But, when it comes to the Guard's in-state duties, Palin's been a little, shall we say, hands off:
Occasions in which Palin retains command authority over the 4,200-member Alaska National Guard are whenever the Guard responds to in-state natural disasters and civic emergencies, said Campbell, who also serves as the commissioner of the state Department of Military and Veterans Affairs.

Some examples?

"We've deployed individuals in state service all over the state under Sarah Palin," he said. "We had defense men down in Seward for the (Mount) Marathon run doing security.

"Out west and northwest we had erosion problems, and the National Guard was involved in some of the protection out there. About three days ago, the Army National Guard picked up a lady from Little Diomede (Island) . . . at the request of state troopers."

Did Palin directly approve each of those activities?

No, Campbell said. The governor has granted him the authority to act on his own in most cases, including life-or-death emergencies -- when a quick response is required -- and minor day-to-day operations.
What about when the AK Guard sent a deployment to aid in Hurricane Gustav relief? "Chief of Staff Mike Nizich signed off on it." July's floods in Fairbanks? "Didn't require the governor's approval."
So there you have it. The Alaska National Guard is totally, totally sexist,