On Friday night, all three networks ram the star-studded, commercial-free benefit show, "Stand Up To Cancer," to raise money to fund cancer research and fight what they called the cancer "emergency" afflicting the country right now.
Over $100 million
was raised, with approximately
10.3 million viewers
across the three networks. Perspective, according to
Paul Gough
at the
Hollywood Reporter
:
The two broadcast networks that didn't run the special, Fox and the CW, had more viewers together than the telethon. Fox's first hour of "Are You Smarter Than a Fifth Grader" averaged 6.6 million viewers while CW's "Smackdown" averaged 4.5 million.

The September 2005 simulcast to benefit Hurricane Katrina victims averaged about 24 million viewers on 29 separate networks.
So what. Who cares. 10.3 million people DID watch, and donated, and felt a lump in their throat as they heard the sad stories of loved ones lost or thought of how their own loved ones had been ravaged by the disease, and felt a sharp thrill of victory at the parade of survivors across the screen, like Robin Roberts and Christina Appelgate and Sheryl Crow and Melissa Etheridge and Patrick Swayze, and were only too happy to part with a few dollars to maybe make a difference. Congratulations, "Are You Smarter Than a Fifth Grader," I'll take the karma of standing up any day.
Also, it was a Palin-free night, which was kind of nice. Though Lance Armstrong did challenge Barack Obama and John McCain to name three things they'd do to fight cancer as president, and each delivered with a videotaped response. (I took notes on other stuff, but not on them, because frankly after two weeks of covering the DNC and RNC I felt I deserved a little break. So there.)
Here's a few snaps and notes from the broadcast: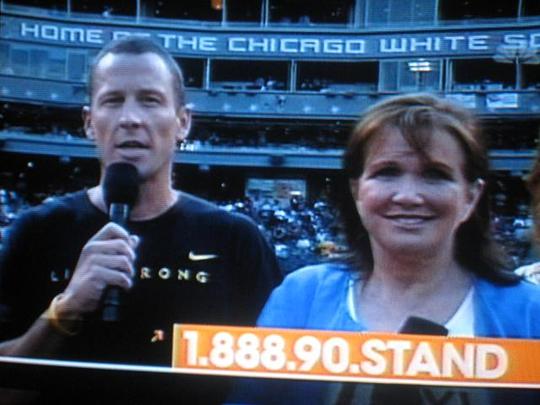 Lance Armstrong and Elizabeth Edwards — high-profile survivors and advocates for fighting the disease — open the show, as an entire stadium stands up with them. First impression, duly twittered: First public appearance for Elizabeth Edwards in quite some time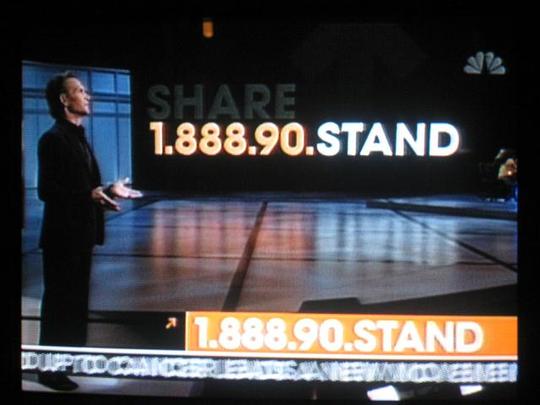 The crowd really erupted for Swayze, whose struggle with pancreatic cancer a few months ago seemed extremely serious. (They're all serious, but reports had been that Swayze's days were numbered.) He looked pretty good to me.

"Please welcome our network anchor dream team, Katie Couric, Brian Williams and Charlie Gibson!" My notes say "network cancer dream team" — a slip, obviously, but sort of accurate. Each of them spoke of their own family members affected by or lost to cancer: Couric's husband, Wiliams' mother and sister, and Gibson's wife, a breast cancer survivor. Gibson also talked about how the ABC News family had been affected by cancer: Via survivor Robin Roberts and the losses of Peter Jennings and Joel Siegel.
First person the camera showed you when entering the Kodak Theater: Scarlett Johanssen.
Something didn't quite go as planned for Kirsten Dunst, who appeared to get testy as she took the mike and then seemed to sulk through her part.
Featured music included James Taylor and Sheryl Crow singing "Fire & Rain" and Sarah McLachlan's "Angel" — yes, they really did intend to make us cry
Cute little video from the cast of "30 Rock," with Tina Fey, Tracy Morgan, Judah Friedlander and Jack McBrayer. At first thought Sarah Palin was making a cameo. I wonder how much she gave?
Billy Crystal did a bit with Bud Selig about baseball, Katie Couric talked to Charles Barkley about his colonoscopy, Salma Hayek looked hot. (Sorry, she did.)
1500 people die from Cancer per day. That's one American death every minute.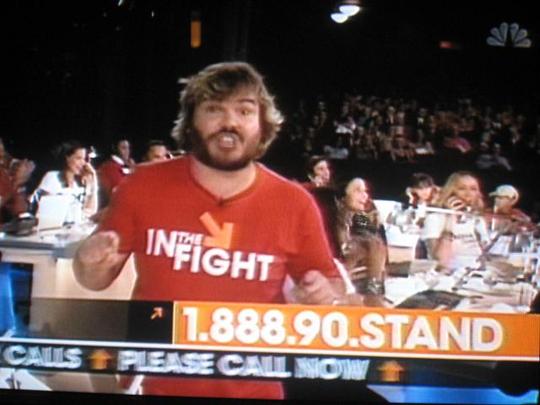 Jack Black took to the stage in a frenzy, challenging stars like Josh Brolin and Ellen DeGeneres to pay up out of their own pockets. Then he made like he was calling Spielberg. Would have been better if they had scrolled some actual celeb donation numbers. Lead by example, etc.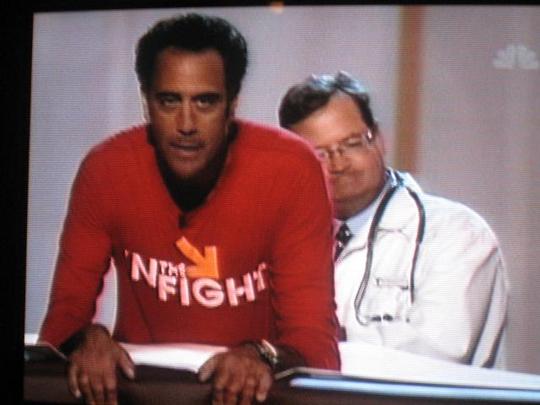 Brad Garrett was given a rectal exam on national television on three networks. Apparently 1 in every 6 men will get prostate cancer. Good news: his prostate is fine.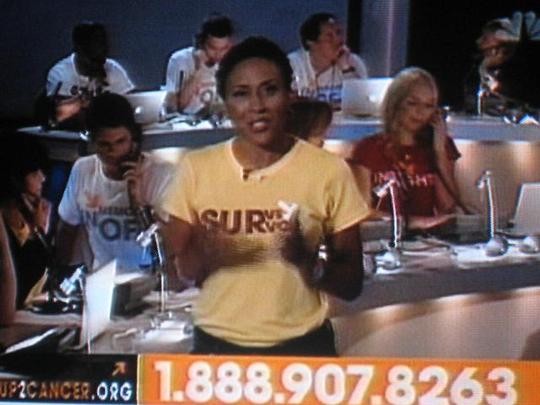 ABC's
Robin Roberts
looks — and is — terrific. Note
Kate Bosworth
and
Rob Lowe
behind her, taking calls.
Meryl Streep narrated a great bit about the history of telethons, focusing on the inception of the March of Dimes, zeroing in on an old-timey radio blaring an old-timey address, promising that if every American could send in just one thin dime, then "we can lick infantile paralysis."
Fran Drescher talked about her charity, Cancer Schmancer.
Divas Unite! Mariah Carey, Beyoncé, Mary J. Blige, Rihanna, Fergie, Sheryl Crow, Melissa Etheridge, Natasha Bedingfield, Miley Cyrus, Leona Lewis, Carrie Underwood, Keyshia Cole, Leann Rimes, Ashanti and Ciara all united in the new single, "Just Stand Up." Even though I only knew who about half of them were (Ciara? Leona Lewis?) I still bought it, helping to make it the #2 most popular song on iTunes the next day. Video below.
Josh Groban and Monica Mancini sang a version of "Imagine" while Halle Berry, Casey Affleck, Jennifer Garner and Forrest Whitaker told stories of cancer victims and survivors, showing pictures. I am pretty sure I teared up here.
Here my notes say, "Keanu, Jim Halpert, and Tracy Turnblad." Also, "AARP!"
Mayor Mike Bloomberg, who I'm going to go out on a limb and call America's favorite mayor (who's gonna challenge him, Kwame Kilpatrick?), said that "8.3 million new yorkers are proud to stand up to cancer." Jimmy Fallon tried out a new slicked-back hairstyle. I hope it's a fad.
Marg Helenberger! Gezhundheit. Also, Sharon Osborne and Julia Louise-Dreyfus.
Oh, look at that, I did take notes on Obama-McCain: Wow - spontaneous applause for Obama: "As someone who watched my mother argue with insurance companies as she lay in bed dying of cancer..."
They honor Sidney Kimmel who donated $25 million. "This week ten thousand Americans will die from cancer. This is the war we must win."
Finally, Jennifer Aniston, capping off the "historic collaboration of three networks and the cancer community." Sobering sign off: "Please stand up once more for the 60 people who died during the course of this hour, one per minute." Wow.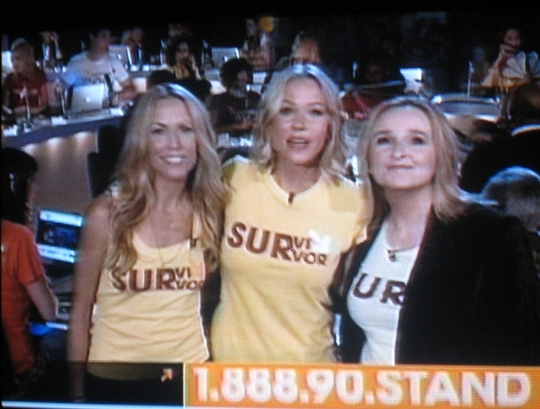 Beating cancer, and looking hot while doing it: Sheryl Crow, Christina Applegate and Melissa Etheridge (who later played a song).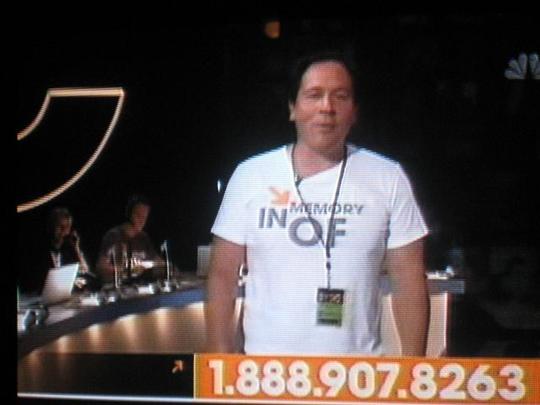 Jon Favreau wears an "In Memory Of" t-shirt.
Divas unite against cancer! Live broadcast from the stage of Fashion Rocks.

Did I miss anyone? Here are a few more:
* Abigail Breslin
* Angie Harmon
* Charlize Theron
* Christina Ricci
* Dana Delaney
* Danica Patrick
* David Spade
* Diane Keaton
* Don Newcomb
* Elizabeth Berkley
* Goran Visnjic
* Jessica Alba
* Jimmy Smits
* Josh Peck
* Joshua Bell
* Mandy Moore
* Marissa Winokur (I said Tracy Turnblad, but you know.)
* John Krasinski (aka Jim Halpert)
* Mekhi Phifer
* Masi Oka
Cast of:
* 30 Rock
* CSI Miami
* Lost