FULD WONDERS WHY LEHMAN WASN'T BAILED OUT
When Lehman CEO Richard Fuld was asked whether there was a substantial difference, from a business standpoint, between Lehman and the other financial institutions that were bailed out, and further pressed on whether he wondered why Lehman wasn't bailed out, he delivered this Charlton Heston-like sentence:
FULD: Until the day they put me in the ground, I will wonder.
RICHARD FULD "GOT OUT-LOBBIED"
Rep. John Mica (R-Fla.) points out that Fuld gave about $300,000 to members of Congress, but that Fannie Mae and Freddie Mac gave more. He says this indicates that while greed on Wall Street was apparent, greed in Congress deserves attention, too. He also tells Fuld he's the villain of the day. WATCH:
REP. WAXMAN SLAMS FULD ON INCOME
Rep. Waxman asks Fuld about his compensation: "I have a very basic question for you: Is this fair?" -- after putting this chart on a screen: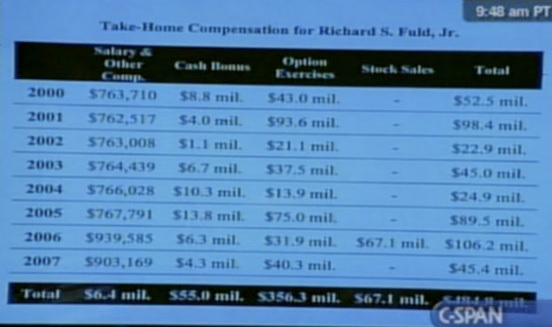 LEHMAN PAID EXECS BIG MONEY WHILE NEGOTIATING WITH GOVERNMENT, THEN WENT UNDER WHILE GOVERNMENT PROPPED UP OTHERS
Congress is finding what it be some discrepancies in Lehman's behaviors, and while Lehman hasn't seemed to explain that away, Congress hasn't quite explained away why Lehman went under while other financials were bailed out:
"Although it comes too late to help Lehman Brothers, the so-called bailout program will have to make wrenching choices, picking winners and losers from a shattered and fragile economic landscape," said Rep. Tom Davis of Virginia, the committee's senior Republican.

Waxman said that in January, Fuld and his board were warned the company's "liquidity can disappear quite fast."

Despite that warning, he said, "Mr. Fuld depleted Lehman's capital reserves by over $10 billion through year-end bonuses, stock buybacks, and dividend payments."
Now, Mr. Fuld is likely to face some tough questions about the final months and days of Lehman. He will discuss these lost opportunities in a Congressional hearing on Monday, in his first public appearance since the company collapsed last month and was sold off in pieces to buyers including Barclays and Nomura.

Mr. Fuld still works for the bankrupt entity, which has come under fierce criticism by customers who lost money, former employees whose severance checks have stopped showing up and investors who think he failed to stop the disaster. Among other things, he may be pressed in Washington to explain why Lehman was publicly presenting a rosy outlook about its future while it privately was scrambling for a solution to its deepening problems stemming from its exposure to toxic subprime mortgages. Mr. Fuld declined to comment on Sunday.
Congress says it would like to find out, through the hearings, who is accountable for major turns in the banking and credit crises.
"Lax oversight and reckless investments on Wall Street are causing massive disruption throughout our economy," Waxman said in a statement on the committee's website. "Our hearings will examine what went wrong and who should be held to account."

The hearings are likely to be testy, given the foul mood of the U.S. Congress after having had to swallow a $700 billion bailout package to keep Wall Street from bringing the entire nation's economy to it knees due to a stifling credit crunch.

Waxman has a reputation for raking high-profile corporate executives over the coals as cameras roll.