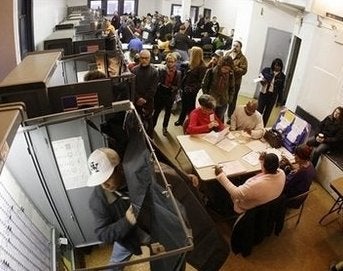 Americans turned out at the polls in record numbers today.
Americans were voting in numbers unprecedented since women were given the franchise in 1920. Secretaries of state predicted turnouts approaching 90 percent in Virginia and Colorado and 80 percent or more in big states like Ohio, California, Texas, Missouri and Maryland.
Though the exact numbers won't be determined until all the votes are counted in the next few days and weeks, a history-making high percentage of Americans voted, according to CNN and the Wall Street Journal:
More than 30 million voters had already cast ballots before Tuesday in early voting. Nearly 100 million more were expected on election day. Hundreds of thousands of voters waited from long before daybreak or for hours on end to make their choices known.

Michael McDonald, a politics professor at Virginia's George Mason University, predicted nearly 65% of the electorate would have voted by the time all polls closed -- matching or eclipsing the turnout in the presidential election of 1960 featuring candidates John F. Kennedy and Richard Nixon. Not since 1908, when the U.S. was convulsing through a shift from the machine party politics of the 19th century to the free-for-all of modern campaigns, has so large a proportion of Americans participated in a presidential election.