HuffPost is gathering widgets and live video feeds to give you a one stop shop for election night. Scroll below the election prediction tools for the election night widgets. Keep checking back as we update this page with more widgets and video.
There has been an avalanche of early voting this year. To read more about the record numbers -and to see if you can get ahead of the Tuesday rush - go to our news page here. And if you're thinking of leaving it to the last minute or want to know when you should start tuning in for results, check out this map below showing poll closing times throughout the country. NOTE ALL THESE TIMES ARE EASTERN. CHECK FOR LOCAL CLOSING TIMES IN YOUR AREA TO CONFIRM.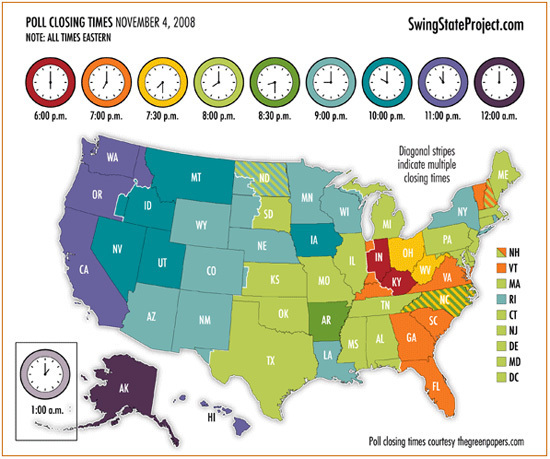 Betfair's Election Odds Chart
Intrade has real time betting odds on what the electoral college results will be. Bookmark the electoral trading odds page or check it below:
Google has a great map for election night that allows users to see the presidential race results AS WELL AS the House and Senate races.
CNN has its electoral map ready to go (obviously it will be blank until polls begin to close on November 4):

MSNBC has released its electoral voting map. Like CNN, you won't see any changes until polls close on the east coast.
CBS News' Election widgets:
CBS's Election Result Coverage With Katie Couric from 6:30pm ET to 2:30am ET: