In a bid to end speculation that Kim Jong Il had suffered a stroke, North Korean officials released a new picture of the "Dear Leader" in apparently good health. But is the image genuine?
A Times Online reader with an eye for detail has pointed out that there is something shady about the shadows in the picture.
A close inspection of the photograph published yesterday by the Korean Central News Agency suggests that the shadow cast by Mr Kim is very different to those cast by the soldiers standing alongside him.
Anthony, from Kuala Lumpur in Malaysia, commented on the news story accompanying the image: "Notice how the shadow of Kim's legs is vertical while those of the troops on both sides of him are at an angle."
Below, the photo in question: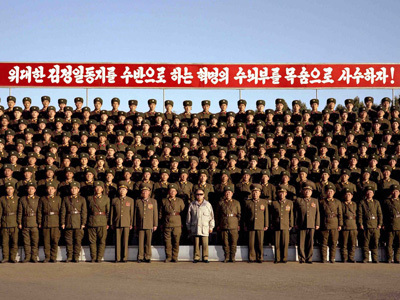 Zooming in to the legs...