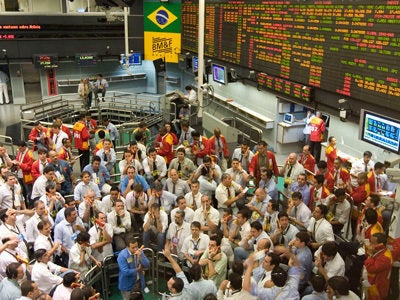 Paulo Sergio Silva, 36, a trader for the brokerage arm of Brazilian banking giant Itau, shot himself in the chest during the afternoon trading session, the exchange said, and hospital staff said he was in critical condition.

Silva was given first aid on the scene before being transported to the hospital, BM&F Bovespa SA, which operates the exchange, said in a statement without providing further details.
Trading in derivatives and commodities was halted for 15 minutes after the shooting occurred shortly after 3:30 p.m. local time (12:30 p.m. New York time), BM&FBovespa, Latin America's largest securities exchange, said in a statement. Traders said people on the floor scurried after the incident, which took place in the interbank rate contract pit.

``It was quite a shock,'' said Decio Pecequilo, senior trader at TOV Corretora in Sao Paulo.

Electronic trading wasn't halted, an exchange spokesman said. Stocks on the exchange are only traded electronically.