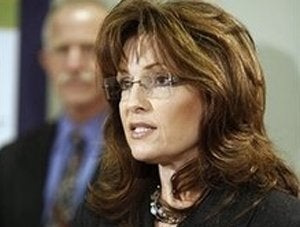 Following yesterday's report on an additional $30,000 in "accessories" spending by Governor Sarah Palin during the Presidential campaign, the New York Times has information on the money made by her makeup artist and hair stylist:
Gov. Sarah Palin's traveling makeup artist was paid $68,400 for roughly two months of work, according to a new campaign finance report filed with the Federal Election Commission.

Ms. Palin's makeup artist, Amy Strozzi -- who was nominated for an Emmy award for her cosmetics work on the television show "So You Think You Can Dance?" -- was paid $32,400 by Senator John McCain's presidential campaign between Oct. 16 and Nov. 24, the period covered by the most recent reports filed with the commission.

This amount came on top of the $36,000 she had already been paid in previous reports, dating back to September.

In addition, Ms. Palin's traveling hair stylist, Angela Lew, was paid a total of $42,225, with $23,400 coming during the period covered by the latest reports to the commission, which were due at midnight on Thursday.
Politico reports that in total, the Republican National Committee spent $180,000 on Palin and her family.
Read more on Palin's makeup artist Amy Strozzi.