Update: 12/19/08 8am:
The six-month truce between Israel and Hamas is now over, and the New York Times reports that the security situation is likely to deteriorate further before both sides make their way back to the truce.
"I think it is going to get a lot worse before it gets better," remarked Robert A. Pastor, who has been traveling in the region with former President Jimmy Carter, meeting with Hamas and other officials. "It did lead to a significant reduction in the number of rockets fired at Israel until November, but the truce had less impact on the goods going in. One hopes both sides learn lessons and agree on a text and publicize it."

There seems little likelihood of that happening soon. Hamas considers Israel an illegitimate state and is doctrinally committed to its destruction, while Israel views Hamas as a terrorist group that must be dismantled. Yet each needs the other to hold its fire. That is why negotiations over another truce have started, again through Egypt. Separately, the Palestinian president, Mahmoud Abbas, was due to hold what is likely to be a final meeting with President Bush in Washington on Friday to discuss peace negotiations. He had called for Hamas to renew the truce.
Watch the Council on Foreign Relations' multimedia Crisis Guide on the Israeli-Palestinian Conflict.
12/18:
The militant Palestinian group Hamas has declared that the truce between Israel and Gaza is now over, and it will not be renewed, reports Al Jazeera.
Speaking on Thursday - one day before the truce is due to expire - Ayman Taha, a Hamas official, said "the calm is over".

Taha said the ceasefire would not be renewed "because the enemy did not abide by its obligations" to ease its blockade of Gaza and halt military action in the Strip.
BBC News reports that both sides accuse the other of violating the peace deal.
A Gaza-based spokesman for Hamas, Fawzi Barhoum, said there was "no possibility" of renewing the truce.

"We at Hamas have the right to respond to any Zionist aggression against the Palestinian people. It's a national duty," he said.
Palestinian women, supporters of Hamas: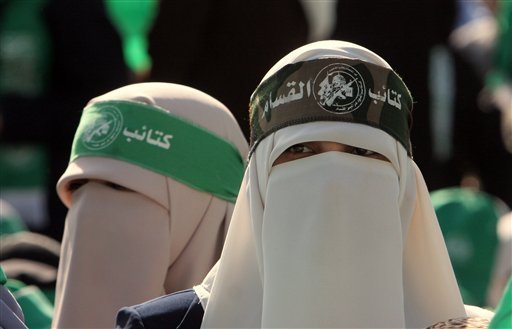 Haaretz reports that Israel supports extending the truce.
"We think the lull is in the best interest of both sides," said Foreign Ministry spokesman Yigal Palmor.

"We would like it to continue. If Hamas chooses violence over the cease-fire, rocket shooting over the possiblity of improving the situation in Gaza, then one must ask oneself whether Hamas has the best interests of its pepole in mind or whether there are foreign interests that are involved."

Palmor did not name foreign influences, but Hamas gets support from Iran and Hamas leaders live in exile in Syria.

Mark Regev, spokesman for Prime Minister Ehud Olmert, said the dozens of rockets launched from Gaza into Israel over the weekend was "the opposite of calm."
Israeli soldiers: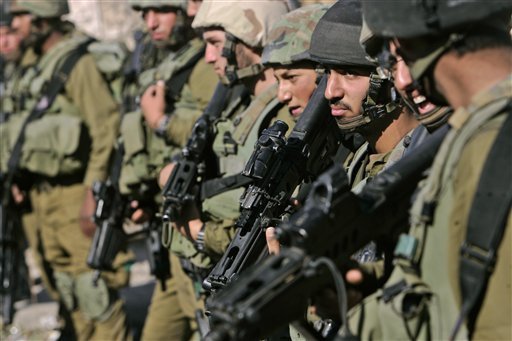 A report in the Jerusalem Post states that Hamas has issued contradictory statements on the truce, possibly signaling splits within the organization.
Some Palestinian analysts believe that Hamas is deliberately issuing contradictory statements in a ploy to pressure Israel and Egypt to reopen the border crossings to the Gaza Strip. Others, however, believe that the divisions in Hamas are genuine.

"Hamas will eventually accept the truce with Israel, but they want to gain something in return," said an analyst in Gaza City. "For now they are being vague about their position with the hope that they could extract concessions from both Israel and Egypt."
Read more Huffington Post stories on Israel and the Palestinian Territories.
Photos courtesy of AP.