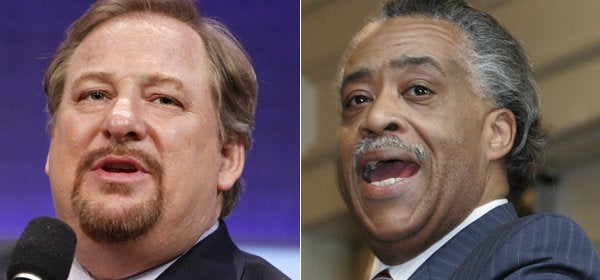 Reverend Al Sharpton defended Barack Obama on Friday for choosing Rick Warren to deliver the invocation at his inauguration, calling the move gracious and inclusive on the president-elect's part.
"I think that from my understanding, President-elect Obama is trying to reach out to people that don't agree and do agree with him, to unite the country. I certainly don't agree with Reverend Rick Warren. I'm sure Reverend Warren doesn't agree with me on certain things. But I think there's room for everyone and I think that is what President Obama is trying do. I thought it was a very gracious thing. I think Warren said it was courageous. I think it was both," said Sharpton. "I think that President-elect Obama showed a lot of graciousness extending this to him, showing that he's trying to pull the country together even with those he disagrees with and [those that are] frankly... less than gracious to him."
The remarks come on the third day of sustained and loud protest over the invocation choice, which both Warren and Obama have labored to defend. Warren's views on gay rights, stem cell research and torture are seen not just as in complete contrast to Obama's agenda, but antithetical to the very inclusiveness that the president-elect is hoping to promote.
Four years ago, the shoe was on the other foot. For his reelection inauguration, George W. Bush asked Rev. Dr. Louis Leon of Washington's St. John's Church Lafayette Square to deliver the invocation. Leon and Bush had a personal relationship developed over the years that the president attended his church. The two also shared policy commitments towards fighting AIDS and, to a lesser extent, pushing immigration reform (in one sermon that Bush attended, Leon blasted Congress for its failure to pass legislation on the topic). The president, in fact, sat in the pew at Leon's church right after the attacks of September 11th.
But the two, as Leon acknowledges, had their share of political differences. And it was of some interest that Bush had tasked him for the inauguration spotlight.
Reached by phone and asked to compare his situation with the current one, Leon demurred. Pressed if he had any tips for Warren, he said: "I wouldn't dare offer Reverend Warren a piece of advice."
That said, the Warren and Leon comparisons go only so far. And progressives are right to note that Leon was never a symbol of exclusion the way that Warren, through his public support of Proposition 8 in California, has become.