The January 2009 issue of O: The Oprah Magazine received a flurry of attention for its cover story, in which Oprah asks how she let herself balloon again to 200 pounds. But readers who pick up the magazine for diet tips may find themselves drawn to Page 14 of the issue, where the magazine gives a touching tribute to its 23-year-old editorial assistant, Blythe Simmons, who died in October following an accidental fall.
From the magazine: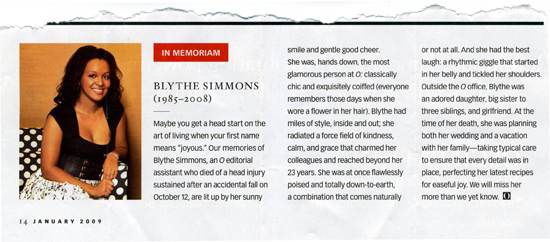 Text of the memorial tribute:
Maybe you get a head start on the art of living when your first name means 'joyous.' Our memories of Blythe Simmons, an O editorial assistant who died of a head injury sustained after an accidental fall on October 12, are lit up by her sunny smile and gentle good cheer. She was, hands down, the most glamorous person at O: classically chic and exquisitely coiffed (everyone remembers those days when she wore a flower in her hair). Blythe had miles of style, inside and out; she radiated a force field of kindness, calm, and grace that charmed her colleagues and reached beyond her 23 years. She was at once flawlessly poised and totally down-to-earth, a combination that comes naturally or not at all. And she had the best laugh: a rhythmic giggle that started in her belly and tickled her shoulders. Outside the O office, Blythe was an adored daughter, big sister to three siblings, and girlfriend. At the time of her death, she was planning both her wedding and a vacation with her family — taking typical care to ensure that every detail was in place, perfecting her latest recipes for easeful joy. We will miss her more than we yet know.