In the continuing effort to completely ruin the Twitter experience, insofar as such a thing can be described as an "experience," the public relations firm representing Illinois Governor Rod Blagojevich has taken to offering periodic updates on their client's merry adventures in media through Tweets. You can enjoy the mundanity by subscribing to the feed of The Publicity Agency. Oh! Let me sweeten the pot for you! These guys also rep Drew Peterson, so, value added!
Imagine getting this information in real time: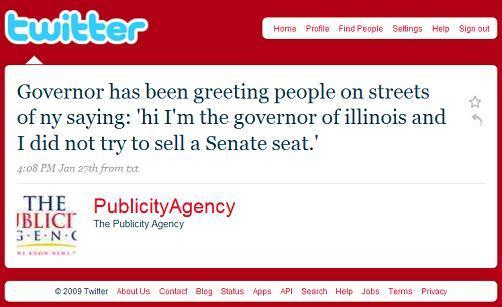 According to their Twitter page, The Publicity Agency bills themselves as "the only PR firm created and staffed by former journalists," a shocking enough example of their lack of industry awareness to preclude hiring them, ever.