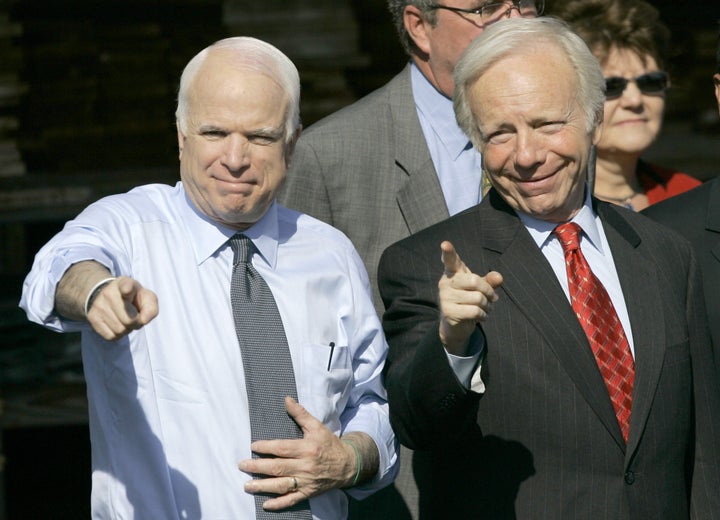 The Senate is prepared for one of its most important votes in decades this weekend, whether to approve President Obama's economic stimulus package. Republicans are pushing back against Obama and Democrats are one vote short of the number needed to cut off debate and pass the stimulus.
With the vote looming, three crucial lawmakers had plans to be elsewhere, a senior Democratic Senate aide familiar with their travel plans said.
John McCain, Joe Lieberman and Jon Kyl were scheduled to travel to Munich, Germany for a conference on foreign affairs over the weekend, said the aide. After the Huffington Post reported the travel plans, aides to Lieberman and McCain dismissed the aide's contention, calling the report "erroneous" and "false." The lawmakers, they said, would remain in town for the vote. Our senior Democratic source insists the men had made clear their intention to attend the conference. Marshall Wittmann, a Lieberman aide, says emphatically that the contention that the Senators would have missed the vote is false.
"The Senator never planned to miss any votes - the conference was scheduled but he would not attend if he missed votes," said Wittmann.
Ryan Patmintra, a spokesman for Kyl, confirmed Wittmann's assertion. "There were, or are, no plans to miss any votes," said Patmintra.
McCain, a Republican from Arizona, has said that he opposes the current stimulus bill. Kyl, also an Arizona Republican, is the Senate's minority whip in charge of corralling GOP votes and opposes the current bill.
The two Republicans and one independent had planned to attend the 45th Annual Munich Conference on Security Policy, the aide said. Vice President Joe Biden is scheduled to attend the conference, as is General James Jones, National Security Adviser to President Obama.