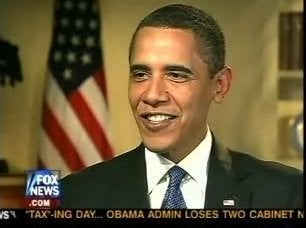 During an interview with Fox News Tuesday, Obama was asked by Chris Wallace about comments he had made to the GOP caucus in which he said, 'When you attack me... I will watch you on Fox News and feel bad about myself.' Wallace asked if this revealed that the president is "a trifle thin-skinned."
Obama responded by telling the Fox News host:
I said it in good humor. I think everyone understood that was a joke.

I think it's fair to say that I don't always get my most favorable coverage on Fox, but that's part of how a democracy is supposed to work. We're not all supposed to be in lock step here.

And you've always been very gracious to me.
Watch the clip, via Media Matters.