The Sri Lankan cricket team was attacked by gunfire earlier today in Lahore, Pakistan. The team was on its way to Qaddafi Stadium for its third day of play when a group of Pakistanis fired at the team's convoy, reports The Dawn. At least seven were killed and 20 more injured.
Bloggers from around South Asia have responded with sorrow and shame to the violent incident, one of many in recent days.
On a site dedicated to Pakistani bloggers, the headline runs, "We Are Sorry."
My heart is sad today for Sri Lanka, the nation and its generosity at a time when no country would visit Pakistan.

I salute your cricketers.

I am ashamed.

And I am sorry.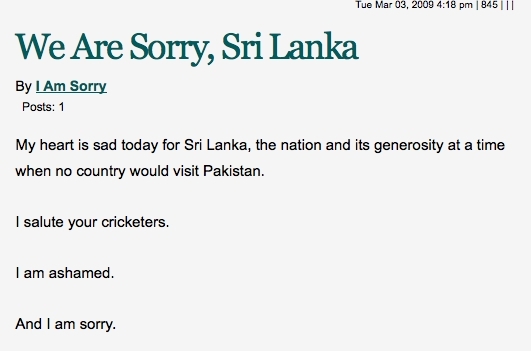 Yasser Latif Hamdani of the blog Pak Tea House responds to the attack with remorse and anger at the people who committed the crime.
Whoever it is is killing off Pakistan slowly but surely. For all of our bold claims that "cricketers and sportsmen have nothing to fear", from today onwards no cricket team or any other sports team will ever visit this country.

We don't know who did it. We don't know and don't care which "foreign" hand was behind it. What we know is that no one can manipulate a people who are not ready to be manipulated. We must take stock of this situation, before we lose our homeland for ever.
Five Rupee, another blog from Pakistan, responds harshly to political figures blaming India for the attacks as well as the death of international cricket in Pakistan.
First, Bubs reports in comments that a couple of prominent political figures have already blamed India. This is foolish for a number of reasons. First, and most important, nobody knows anything right now, and anyone who pretends to know is lying. Second, it strikes the rational observer as incredibly childish and petty ("You blamed us, so now we blame you"). Third, it is most likely untrue: it is not as if Pakistan finds itself lacking with homegrown militant groups, or does not have sufficient political violence for this to be yet another chapter in our state's morbid history. Fourth, if it is a foreign-based attack -- and I can't emphasize enough how unlikely I deem that scenario -- then it is more likely to have originated from Sri Lanka thanIndia.
Meanwhile, bloggers from India and Sri Lanka have also responded to the tragedy.
The Taragana blog from India reports that the Sri Lankan team was filling in for the cricket test series after India pulled out of the engagement after the Mumbai attacks. The article includes a response from the Board of Control for Cricket in India.
'The Board of Control for Cricket in India (BCCI) expresses its sorrow and anguish over the dastardly attack on the Sri Lankan cricket team at Lahore. We pray for the speedy recovery of the injured cricketers, and sympathise with their families and compatriots. The BCCI stands alongside Sri Lanka Cricket in this hour of crisis,' said BCCI secretary N. Srinivasan.
A Voice in Colombo, a blog from Sri Lanka, writes about the attacks and the extent of the injuries sustained by the players, saying the tour will be canceled.
After the incident, the second test between Sri lanka and Pakistan was called off. No decision has been made regarding the future of the tour. Most probably, Sri Lankans would call off th tour and return home immediately. ICC is yet to issue an official announcement of the incident, and their view point.