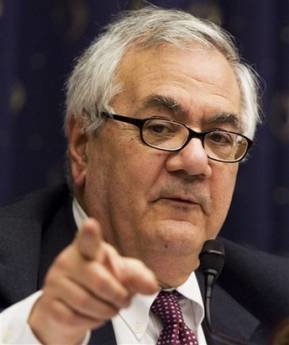 The House on Thursday passed bankruptcy reform legislation that dealt the banking industry its first major defeat since 1994. The bill, passed 234-191, largely along party lines, encourages lenders to renegotiate mortgages with troubled homeowners. If they can't, the bill allows bankruptcy judges to modify the mortgages, a reform that bankers have argued undermines the sanctity of a contract and rewards bad behavior.
But their arguments fell on deaf ears in a chamber that has appropriated hundreds of billions of dollars in bailout funds for major banks.
"There are some people who said during the debate, 'Well, this bill rewards irresponsibility or bad choices.' Well, my goodness," said Rep. Artur Davis (D-Ala.). "Many people in my district feel that those [bank bailouts] rewarded irresponsibility and bad decisions, but they were done in the name of a broader interest. So on this issue, frankly, the banks were out of touch with the American people."
The argument that the bill would create chaos didn't influence lawmakers in this already chaotic environment. "The idea that this is all about destabilizing the real estate market -- that's just a bad joke," said Rep. Bill Delahunt (D-Mass.). "And looking forward, well, you know what, we can't look too forward because we're in this tsunami."
Financial Services Committee chairman Barney Frank (D-Mass.) said that the banks' winning streak was unsurprising, given that the GOP took Congress in 1995. But even with Democrats in power since January 2007, banks haven't lost any major battles.
"The Committee on Financial Services put out a bill to regulate credit cards in 2008. They didn't like that," Frank said, but noted the bill ultimately died. "Nothing passed both houses that they didn't like."
Energy and Commerce Committee Chairman Henry Waxman (D-Calif.) chuckled at the thought of the banks being on the losing end of a vote for once. "I'm not close enough to them to count their wins and losses, but they're pretty powerful," he said.
Rep. Mike Simpson (R-Idaho) said he wasn't sure about their win/loss record, either. "Hell, I don't know," he said. "I don't keep track of whether the banking industry wins or loses votes. We're trying to send a message to the banking industry? I don't know, I thought we were trying to pass legislation that would work and unfortunately this is not a good piece."
The banks, however, will come to see this defeat in a better light once it starts working, said Delahunt. "I would characterize it as a win not just for the homeowners, but for the investors and the banks. My own sense is that there's a growing number [of bankers] who understand that this is essential. It'll begin to establish a floor. The banks as much as the homeowner need that floor so that they have a comfort level that allows them to commence lending," he said.
In 1994, said Rep. Brad Miller (D-N.C.), Congress passed the Home Ownership and Equity Protection Act over the objections of the banking industry, which banned certain deceptive practices in mortgage lending. But even that victory was hollow, said Miller, because the law relied on rules that the fed had to write and which it didn't draft until 2008.
The banks lost, said Miller, because of pressure on the other side from constituents who called congressional offices, urged to phone in by organizations such as MoveOn.org and Brave New Foundation, as well as local Democratic Party groups that began organizing voters. FireDogLake's Jane Hamsher led the liberal blogosphere in pushing back against the banks, too, reporting on the internal Hill debate and pressing readers to call their House representatives.
"When all the push was coming from those against the bill, members were pretty skittish about voting for it. When the push was coming from both directions, they wanted to see the bill changed in some way -- perhaps only a cosmetic way -- so they could say,
'Well it's a compromise now,' and then vote for it," said Miller.
In defeat, the banks still extracted concessions. "They did have influence over the direction of the bill," said Davis, citing three changes: 1) Only homeowners who have mortgages on the day the bill becomes law are eligible, 2) Banks get the bulk of any profits that might eventually accrue if the house is later sold at a higher price and 3) judges are to first try to reduce interest rates before reducing principal.
"Those are all things the banking community wanted," said Davis.