UPDATE:A helicopter plucked survivors from the roof of Bangladesh's biggest shopping mall Friday as a fire raced through the upper levels of the high-rise complex, killing at least seven people and injuring 50 others, reports AP.
UPDATE: At least two people were killed and about 50 injured in a fire that swept through the top floors of Bangladesh's largest shopping mall, reports Al Jazeera English. The fire is now under control, according to the Dhaka police chief.
EARLIER: Al Jazeera's Nicolas Haque called the scene "chaotic:"
He said the army and police had been called in to manage a crowd gathered at the base of the tower that was hampering the firefighters.

"Firefighters haven't managed to come near the flames," he reported. "They've climbed on an adjoining building, but are nowhere near control.

"They simply don't have the equipment to fight such a massive fire. The building was built just five years ago, but unfortunately there were no fire systems put inside."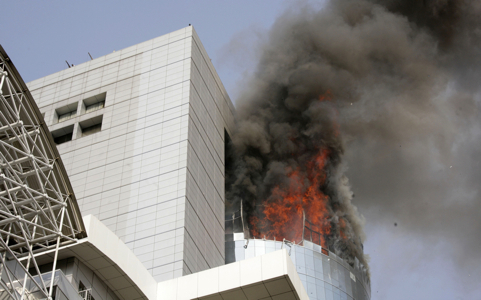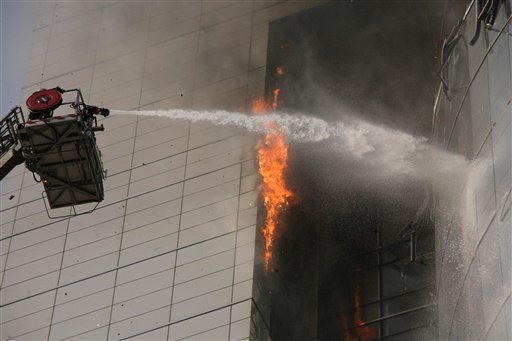 AP describes the fire and attempted rescue efforts:
Huge flames shot into the air amid billowing smoke as hundreds of panicked people, many carrying shopping bags, fled Dhaka's 22-story Bashundhara City mall, which has more than 2,000 stores and cafes.

The blaze broke out on the 18th floor, fire official Selina Chowdhury said. Fifteen fire trucks responded, but the flames still spread quickly. Troops and police joined firefighters in the rescue work, said Abul Kalam Azad, spokesman for Prime Minister Sheikh Hasina.

An air force helicopter rescued three people, including the mall's chief security officer, from the roof, fire official Mahbubur Rahman said.
E-Bangladesh is collecting Twitter messages about the disaster. See them here.
Watch CNN footage: