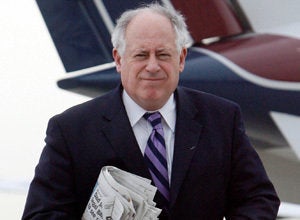 Gov. Pat Quinn announced Monday that he is making copies of his 2008 income tax returns available for public review. The results, according to figures released by Quinn's office, don't appear likely to damage the governor's reputation as a self-styled spendthrift.
In addition to his $120,226.61 salary as Lieutenant Governor, Quinn reported interest income of $2,207.22 and a taxable refund of $770.15. He paid $32,505.19 in federal and state income tax and $2,834.02 in property taxes on his Northwest Side home.
UPDATE: Quinn is due a $9,000 refund, the AP reports:
Getting a peek at Gov. Pat Quinn's taxes isn't as easy as you might think.

Quinn didn't make copies of them available today when he released the returns, instead requiring people to make appointments to see them at his Chicago or Springfield offices.

Other politicians, including President Barack Obama, e-mailed copies of their returns.

Quinn spokesman Bob Reed said in an e-mail that Quinn prefers viewers take notes from his original documents.

The returns show Quinn is getting money back from Uncle Sam. He's due to receive a refund of $9,000.

Last year's returns cover Quinn's time as Illinois' lieutenant governor. Quinn didn't become governor until January, when lawmakers removed former Gov. Rod Blagojevich from office.