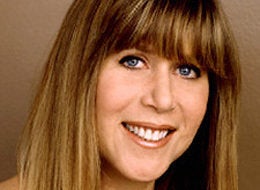 Bradblog.com reports that liberal talk-radio host Randi Rhodes is returning to the air, on a syndicated talk radio network that is home to conservatives such as Rush Limbaugh, Glenn Beck and Sean Hannity.
Following almost a two month absence from the airwaves, Progressive radio talker Randi Rhodes is set to return, according to an announcement this afternoon from John Scott of San Francisco's Green960 (KKGN). She will be syndicated by Premiere Radio Networks as reported in a video-taped announcement just posted on the Green960 website.
Last year, Rhodes left Air America, where she was one of the most popular personalities, after a controversy over her referring to Hillary Clinton as a "big f------ whore" at an off-air event. She later joined Nova M Radio Inc. but departed due to a contract dispute.
"For Premiere to step up in this economy and take this show says a lot about Randi," said Robert Gaulin, Ms. Rhodes' lawyer, who called Premiere "the home of the Rushbo."

"It's all about getting audience we don't have," said Charlie Rahilly, president and chief executive of Premiere, who commented that Ms. Rhodes was very successful in drawing listeners in past stints on Clear Channel stations.