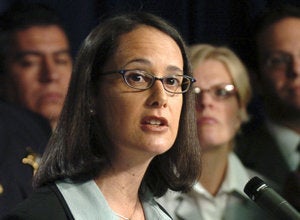 The survey of 415 likely Democratic primary voters conducted April 24-26 has Madigan leading current Gov. Pat Quinn 45-29 in a potential gubernatorial primary. Though Quinn got positive reviews for his job performance -- 56 percent approval compared to only 14 percent disapproval -- Madigan's 74 percent favorable rating gave her the edge.
Madigan's odds actually improved in the Senate race, according to the poll, while Sen. Roland Burris' chances of retaining his seat appear slim. In a race between Madigan, Burris, State Treasurer Alexi Giannoulias and U.S. Rep. Jan Schakowsky, Madigan drew 44% of poll respondents' vote, with Giannoulias second at 19%, Burris third with 13% and Schakowsky trailing with 11%. 14% were undecided. Schakowsky's odds dramatically improve when Madigan is removed from the matchup, but she still trails Giannoulias 38% to 26%.
A separate poll commissioned by Schakowsky and conducted by Lake Research Partners April 19-22 has the Congresswoman leading a hypothetical three-way Democratic primary over Burris and State Treasurer Alexi Giannoulias. Schakowsky's poll did not include Madigan as a Senate candidate.
Chris Kennedy, a Chicago businessman and son of Robert F. Kennedy, has been quietly testing the waters on a possible senate run, according to the Sun-Times' Lynn Sweet. He was not included in either poll mentioned above.