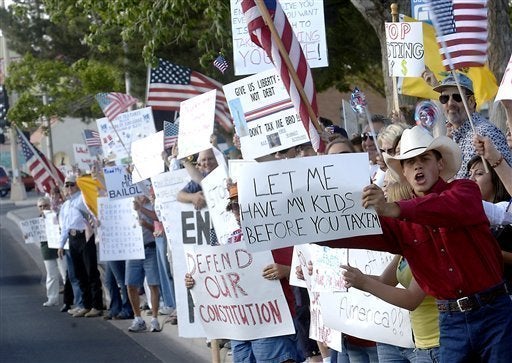 One of the leading coordinators of the tea parties that happened across the country on tax day, April 15, has penned a soul-searching letter to supporters saying the tea party effort is "in a very disconcerting position at the moment."
Eric Odom, administrator of TaxDayTeaParty.com (the online hub of the tea party phenomenon), wrote on Monday that he is troubled that the parties have come to be seen, from both within and without, as a unified "movement" with central leaders trampling the prerogatives of the grassroots.
Odom writes that at the federal policy level, tea partiers should be focused on three things: opposing "Socialized Healthcare," "Internet Taxation," and "Union Card Check."
At the local level, those sympathetic to the tea party events should look to strengthening processes for ballot initiatives and referendums, term limits, and supporting tea-minded candidates for local offices.

OK, seriously... what's going on with the Tea Party effort?
And what should we all be thinking as we move forward?

~~~~~~~~~~~~~~~~~~~~~~~~~~~~~~~~~~~~~~~~~~~~~~~~
Hi [Name],

If you're concerned about the direction of the Tea Party effort, it is VERY important that you take a few moments to read and digest this entire email.

I'm writing you because I find the Tea Party effort in a very disconcerting position at the moment. I've been on vacation for the past few days, so I'm a little behind on all the news, but from what I'm reading it sounds like there has been a lot of things said internally, within the effort, that probably should not have been said.

For the record... I'm not writing you as a representative of any organization or coalition. I'm not writing you as director of this org or that org; Rather, I'm writing you as Eric Odom. Eric Odom the activist, the tea party organizer, and the concerned American.

I now recognize that I should have written to you about this sooner. I know that many of you are emailing me and calling my cell phone to try and figure out which "group" I am joining or which "coalition" I support, so I thought I would address that question, and follow it up with a full explanation of what I'm personally doing post April 15th.

To give you some quick background... I'm the guy who developed both the site and concept for the February 27th Chicago Tea Party as well as the April 15th Tax Day Tea Party. I'm not in any way suggesting this was all my idea, but I am asserting that I've been HEAVILY involved since minute one of everything that has happened in the movement to date.

This has given me a very unique and humble perspective on the Tea Party effort. Unique because I have numbers and data that no one else has. I mean, I know exactly how many visitors we had, what they were searching for, who contacted us, what they were asking, how many contacts we made, and how many media mentions we were privy to (among MANY other things). Humble because I'm the kind of guy who likes to sit behind the scenes and work to facilitate an environment where true grassroots activity can occur, which has provided a much different view of this movement as it unfolded as opposed to what many others have seen happen.

Since day one, I've strongly held the opinion that there should never be an "official" coalition or group to "oversee" the Tea Party effort. In fact, my belief is that doing so is impossible.

This caused problems between myself and a couple other national organizers because some of us shared vastly different opinions on how this movement should function.

Yes, we had a website. And yes, our website had sponsors (some of which, by the way, I was not very happy about), but I believe our sponsors did help us get an early nudge that we needed for mass attention, and in turn, mass collaboration.

But to me that should have been the end of it. In my view, our goal should have always been to simply facilitate an environment where local organizers could take the lead in this movement.

Sure, our website had difficulties... but that was a learning process for us and one we learned great lessons from. That said, we did everything possible to stay out of the way of local organizers. We didn't try and tell organizers what to do or say, we just tried to provide advice and help others share their experiences.

Essentially, our function as a website was solely to market local Tea Parties and help organizers collaborate. That was it!

Now I understand that some out there are saying "there is poor leadership involved within the group who originally started all of this", but to those folks I would remind them that I never wanted to be THE leader of this effort. Nor did I believe any of us at TaxDayTeaParty.com should try and become THE leader of this effort.

I constantly stated my desire to see all 800+ local organizers take a leadership role at the local level and begin developing local coalitions, taxpayer groups, lobby networks, citizen action groups, etc. It has been and always will be my opinion that a top down model fails every time in the modern day free-market movement.

So why on earth should we try and do it again?

And as a side note, we at some point need to understand the VITAL importance of regaining control of our LOCAL government. I get that fighting Federal battles is sexy and everyone is doing it, but I also get that we're losing our asses in our own back yards!

So I cringe when I see people claiming to be "leaders" in this movement make statements about the Federal government and how that is where all of our energy needs to be spent.

Here's a memo for you... the current administration as well as the current congress are doing a fantastic job of defeating themselves. Not to say we just ignore them, but if we devote all of our time to the Federal fight yet lose our states... we do so at our own peril.

I think this is why I have always gotten along so well with Stacy Mott of Smart Girl Politics and Ned Ryun over at American Majority. They get it. They're a part of a group of free-market movement folks who understand the value in fighting out-of-control government at the local level and how it in turn affects government at the federal level.

So, I think a part of what I'm trying to say here is that I never personally left the Tea Party Movement. In fact, I would suggest quite the opposite. I would, however, admit that I lost interest in being a part of a national "brand" that centers around planned protests in a top down format.

Also, I was never once a fan of trying to brand the free-market movement as the "Tea Party Movement." The DontGo Movement already learned a hard lesson from trying to do just that (http://dontgomovement.com). Last August we had a HUGE groundswell of action related to the energy debate, and through Twitter our campaign was branded "DontGo." The reason for that word is because our message is that we were paying extremely high gas prices and congress needed to stay in session to find a solution to the problem BEFORE going on vacation.

Just like with the Tea Party effort, many media outlets and political pundits put pen to paper claiming the "DontGo" campaign was officially a movement. This is what became the DontGo Movement.

The problem, however, is that there was an error in the way DontGo was viewed. DontGo was not a movement; Rather, it was a campaign within a movement. The real movement is much larger... the real movement is the nationwide free-market movement. DontGo shouldnt have been branded as a movement. Instead, it should have been branded as a national grassroots campaign within the movement.

I believe this should be the case for the Tea Party effort as well. The movement already existed, we just needed to be called into action. The Tea Party effort is not the movement... the Tea Party effort is a campaign we launched within the movement.

So what are we up to now?

I'm currently working with a coalition of folks that have opted to take a quieter, more strategic approach to the energy surrounding the Tea Party effort. We're developing a two pronged plan for long term political activity within the free-market movement, and I want to invite you to be a part of this effort.

1) Federal
At the Federal level, we believe we're looking at three very significant fights coming up that our coalitions and networks should be heavily involved in. It is our opinion that these are fights that we can not only play a major role in, but we think we can actually influence the outcome.

--Socialized Healthcare
--Internet Taxation
--Union Card Check
(and a few other free-market related issues as well)

2) Local/State
Our goals at the local level are as follows (not limited to):
--Revitalize and strengthen the initiative & referandum process
--Heavily support and push through Term Limit legislation
--Identify candiates for school board, city council, county boards, state legislatures and state constitutional offices... and arm them with the tools and knowledge needed to succeed at running for office
--Develop a large scale fifty state network of independently operated grassroots networks/coalitions that can effectively combat extreme local taxation
--Identify potential leaders and groups within the movement and provide them with the tools needed to expand and become politically successful

3) Long term planning for a large scale 50 state Capital protest on tax day of 2010

We hope to kick this effort off on June 1st, 2009, and we would love to have you as a part of the team.

Consider this a special invitation to a private, national strategic planning conference call that will take place on Tuesday, May 12th, 2009. In order to accept the invitation, you MUST send an email to info@taxdayteaparty.com and tell me why you desire to be a part of this conference call.

We'll reply with call credentials once we've reviewed your response and approve you as a participant (sorry for the long process... trying to block those who simply wish to disrupt what we're doing).

In the meantime, in regards to the Tea Party effort... keep doing what you do. We need lots more of it and I think we'll get it. But let's not lose focus on the bigger picture, and let's make sure we're thinking about the entire movement as we head into an important 2010 election cycle.

We the People have the power to take back our country. We need to get back on track and do the work that needs to be done to fix this broken system.

Best Regards,
-Eric Odom