Bruce Willis and his new lingerie-model bride Emma don kinky boots and play bondage in the July issue of W Magazine.
Inside the action star and Demi Moore-divorcee talks about his recent nuptials and the provocative (and topless) photo shoot.

On marrying 32-year-old Emma Heming in March '09 after dating a string of models ..."I went from 'F--- love' to 'Love is truly the answer. I spent the last 10 years single and, for the most part, unhappy. In a dark place. I never thought that being with someone else was the answer. I would say, 'I'm alone, but I'm not lonely.' But I was just kidding myself. Then I started hanging around Emma, and on a day-to-day basis my life became much happier."

On how he, Emma, Demi, Ashton, and the kids (Rumer, Scout, and Tallulah) ALL GET ALONG...We've become like a tribe. It's generated a lot of interest because everyone can understand resentment and envy in the breakup of a marriage, but they don't understand how I can get along with my ex like that. Demi and I made a choice to put the kids first, and we're really lucky that it turns out we all have fun together. I still love her, and I have a lot of respect for how she lives her life."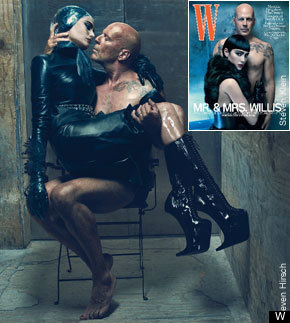 On modeling with Emma for W's photo shoot for the July issue..."Oh, it was awkward. We did stuff that I know a lot of other actors would not have done. Had I done it with another model I don't know that I would have been as into it."

On how he now prioritizes his personal life over his career..."I hear so many people in relationships say, 'I just need a couple of days away, or even an hour away. But I don't want to be away from Emma at all. It's the most singular relationship I've ever had in my life."