I'm liveblogging the latest Iran election fallout. Email me with any news or thoughts, or follow me on Twitter. Send me instant messages at nico.pitney@gmail.com or njpitney on AIM. Scroll down for news related to the front-page headlines. Local Iran time is 8 1/2 hours ahead of Eastern time. Click here if you'd like to support this post on Digg.
12:00 AM ET -- Monday's updates are here.
10:18 PM ET -- Mousavi's Facebook site denies arrest reports. There are several accounts tonight that Mousavi was arrested. A message just posted on his Facebook page appears to deny them: "Mir Hossein Mousavi is not under house arrest, he is not about to leave the country, he is under strong pressure to end this. but he always said he will stand for the people's will to the end ! He is amongst people..."
8:13 PM ET -- Photos from Sunday. Demotix's brave photojournalists have published several.
6:39 PM ET -- Firing from a rooftops. "Incredible high point overview at the chaos in Tehran when the Iranian regime began to brutally crack down on the pro-democracy demonstrations on June 20th 2009 - look at the Basij shooting down off the roof..."
6:00 PM ET -- Senior Obama aide David Axelrod: Ignore Ahmadinejad's "bloviations."
5:57 PM ET -- The brave women of Iran. The L.A. Times on today's rally: "A female protester, covered completely by a black chador, taunted some of the police. 'Who are you?' she demanded, according to the witness. 'Are you Muslims?' Dumbfounded security officials stood and watched, the witness said."
5:43 PM ET -- Iranian state TV tries to spin Neda's death. An Iranian-American friend sends along some new propaganda from state media making the case for why Neda's death wasn't caused by government forces. Here's a paraphrase:
They provide 3 reasons:

1) She was away from the main center, why should their forces be far away;
2) Why were people there with cameras unless this was already planned and staged?;
3) The bullet used is from a 6-7 mm caliber pistol, which is not used by their forces;

One interesting thing in the video is the older man, which I assume is the same person who wore the blue striped shirt on the day she died. He said the sound they heard sounded like a firecracker, not a gun, with a trailing fizzy sound. The first guy on the street is supposed to be the person who drove her to the hospital, he says there were no agents around.
It feels silly to respond to this but I want to note a couple points: 1) It's clear that there were Basij fighters near Neda because video of her while she was still alive shows them just up the street. 2) The doctor who tried to save Neda's live (and then fled the country in fear) says he saw the crowd detain a Basij member immediately after she was shot. 3) Anyone who's ever heard a handgun go off knows they can actually sound very much like a firecracker, quite unlike how they often sound in movies, etc.
5:39 PM ET -- Senior cleric calls for separation of powers. The NIAC translates a story today about Ayatollah Javadi Amoli calling for separation of powers in Iran.
"When one person alone enacts, executes and judges the law, there will be problems." ... Amoli, who led the Friday prayers sermon in Qom, believes that the best way to resolve the current situation is a separation between the executive branch, the judicial branch and the Islamic jurist. Amoli said separation of powers is not a recent phenomenon and it existed before Islam. "Separation of powers does not belong to a particular century. Islamic and non-Islamic governments have it now, too," he said.
5:31 PM ET -- Mousavi calls into today's protest. Several readers have passed along this video posted on Facebook. Reader Kia offers a description (slightly edited for clarity): "Dr. Beheshti (son of the Ayatollah Beheshti, who was a founder of the revolution and assassinated some 30 years ago -- the event today was held in his memory), who is a supporter of Mousavi, is first talking to people telling them that Mr. Mousavi is stuck in traffic and is not able to join them. Then they call Mousavi, and we can hear Mousavi's voice from his cellphone (very hard to figure out what he is saying -- apparently thanking the protesters and asking them to stay non-violent). Finally, the crowd notices that Karroubi is joining the crowd and is walking toward them, and everybody starts shouting in support of Karoubi and Mousavi."
5:18 PM ET -- Is the Revolutionary Guard really in control? Two U.S. analysts -- former National Security Council staffer Gary Sick and former CIA operative Robert Baer -- argued today that the events in Iran over the last two weeks amount to a military coup by the Revolutionary Guard. Here's Sick writing for the Daily Beast:
Over the 20 years that Ayatollah Khamenei has been the rahbar, or leader, he has allied himself ever more closely with the Revolutionary Guards--to such an extent that it is no longer apparent to me who is leading and who is following. The Revolutionary Guards have been granted extraordinary influence over all functions of the Islamic republic--military, political, economic, and even Islamic. Technically, they take their orders from the leader, but has he ever dared to contradict them? On the contrary, he seems always to court them by granting them ever-greater influence and responsibilities. [...]

Unlike the professional military, which had always abjured a political role in Iran, the Revolutionary Guards were recognized from the start as the protectors of the Islamic republic. They have gone on to acquire an active and pervasive presence at all levels of the political structure, particularly under President Ahmadinejad, who has appointed his fellow guardsmen to positions throughout the bureaucracy.
And here's Baer on CNN's "GPS with Fareed Zakaria": "Fareed, I'm quite sure there's been a military coup d'etat by the Islamic Revolutionary Guard Corps in Tehran. They've taken over. And the fact that the Basij came out so quickly, they could have only done that on orders from the IRGC. The fact that Ahmadinejad is a former IRGC officer, he has the backing of senior officers, I think what we've seen is a military coup against the old clerical establishment. What do you do about a military takeover in a country like Iran? You just simply wait it out." A transcript of the full discussion is here.
5:16 PM ET -- Some British embassy staff reportedly released. "Iranian state media is reporting that authorities have released some members of the British Embassy staff in Tehran, one day after eight Iranian staffers there were detained for alleged links to the nation's post-election unrest."
5:10 PM ET -- Are clerics in Iran as divided as Iran? Reza Aslan, interviewed by NPR, offers a broad explanation of Shi'ism in Iran.
4:45 PM ET -- Iranian actor reportedly arrested at rally. Via a reader, the news site Kamyab News is reporting that Reza Ataran, a comedic actor, was arrested in front of Ghoba mosque with his wife today. The article "says that he was wearing green and was led away by security forces."
4:36 PM ET -- "The train has left the station." Some analysis from an excellent summary piece by the New York Times:
The leadership seems to recognize that ending the street demonstrations is far easier than turning the clock back to the days before the election, when there was still some degree of trust in a system that sought to marry religious authority with popularly elected institutions, political analysts said.

"I think no one can predict Iran's political future," said an Iranian intellectual who asked not to be identified for fear of reprisal. "I do believe some things have changed after this recent upheaval and that events will play out in months and years to come." [...]

In spite of the unrelenting pressure of the state, including threats that protesters should be jailed and even killed, there were still high-ranking insiders who refused to endorse the government's narrative. They were not agitating for the opposition -- or even for defiance -- but by carefully not endorsing the leadership, were seen as challenging it, political analysts said.

"As one colleague said, the train has left the station, and I don't think even the leaders of the country know exactly where it is heading," said Ali Ansari, a professor of Iranian history at St. Andrews University in Scotland.
4:22 PM ET -- Khamanei speaks on Sunday. There seemed to be a slight shift in Supreme Leader Khamenei's rhetoric today, describing the protesters almost sympathetically, as "youth" being "toyed with" and emotionally manipulated by Western governments. From state TV:
The Leader said Sunday that legal measures were the only solution to the issues that the country has been facing since the 10th presidential elections on June 12.

"The people's emotions, especially that of the youth, must not be toyed with and they should not be pitted against one another as the Iranian nation, regardless of the differences of opinion, is a united nation that has good relations with the [Islamic] establishment."

Ayatollah Khamenei went on to urge political parties not to play with one another's feelings and said, "If the nation and political elite are united in heart and mind, the incitement of international traitors and oppressive politicians will be ineffective."

The Leader's remarks came after certain European countries and the US condemned the measures taken by the Tehran government to restore stability in the country following the election, which saw incumbent President Mahmoud Ahmadinejad win by a landslide.

"They express their opinions about Iran in a manner that one would think all their other problems have been resolved and only the Iranian problem remains," said Ayatollah Khamenei.
The New York Times noted that Khamenei was "returning to a theme of foreign intervention that historically has resonated across Iran but that has so far failed to silence the opposition."
3:35 PM ET -- Random notes. My appearance with Dana Milbank on CNN today was pretty heated -- video is here if you're interested. Also, if you'd like to support today's live-blog on Digg, the link is here.
3:14 PM ET -- PersianKiwi reappears? Yesterday, there were reports that a reliable and prolific Iranian on Twitter known as PersianKiwi had been arrested. Readers today are directing me to the account of a new Twitter user alleging to be the same person. One of those posts today reads, "WARNING! Am Safe. Basiji corrupted my twitter acct. DO NOT SEND INFO TO ME @persiankiwi! Great danger!"
It's so difficult to determine the reliability of these posts, and I urge readers to consider them very cautiously. But in the absence of virtually any hard information, I'm trying to provide whatever updates I can.
3:08 PM ET -- Iran's mass arrests broadest since '79. "Intimidation of regime opponents with arbitrary detention or house arrest is nothing new in Iran. But the country's current crackdown against citizens angry at the apparent rigging of the June 12 presidential election in favor of the incumbent Mahmoud Ahmadinejad is its broadest since the aftermath of the Islamic revolution in 1979."
2:35 PM ET -- Video of police crackdown. Reader Jack passes along this video, the first reportedly from today showing violence against protesters. In the clip, riot police and basiji on motorcycles swarm a handful of protesters. One demonstrator, whose face is blooded, is shown being pushed along the street; at one point, a police officer wearing a helmet headbutts the man.
Two more lower-quality videos apparently from today are here and here.
2:14 PM ET -- More video reportedly from today. Via reader Allie, this incredible video shows Mehdi Karroubi, the other reformist candidate to run in the presidential election who has now allied himself with Mosuavi, marching along with the crowd.
Via a reader, this site reports that, in addition to Karroubi and Faezeh Hashemi, "Ayatollah Ghafari and Mustafa Malikyan participated in the ceremony. Mousavi talked by phone to the people."
Update: And here's yet more video from today:
12:43 PM ET -- Iranian officials crack down on Tehran march. A breaking news alert from the AP: "Witnesses in Iran say police have clashed with up to 3,000 protesters near a mosque in north Tehran. They say security forces fired tear gas to disperse the crowd, and some demonstrators fought back, chanting: 'Where is my vote?' Witnesses at the scene tell The Associated Press that some protesters claimed they suffered broken arms or legs in Sunday's clashes around the Ghoba Mosque. They say some young demonstrators screamed at police and then attacked them after the officers allegedly beat an elderly woman. The reports could not immediately be independently verified because of tight restrictions imposed on journalists in Iran."
An Iranian on Twitter writes, "Anti-Riot Vans Moving toward Shariati, St, Clashes at Mohseni SQ." A reader notes that a commenter on Mousavi's Facebook page says that Faezeh Hashemi -- the daughter of Mousavi ally and former Iranian president Rafsanjani -- was at the demonstration today.
12:14 PM ET -- Rafsanjani breaks his silence. From the AP:
Influential former President Akbar Hashemi Rafsanjani, seen by analysts as a possible mediator in any effort to defuse the election row, called for a thorough examination of complaints.

He praised a decision by Khamenei last week to extend a deadline for the Guardian Council to receive and look into objections by defeated candidates, the ISNA news agency reported.

"I hope those who are involved in this issue thoroughly and fairly review and study the legal complaints," Rafsanjani said.

Breaking his post-election silence, he described events after the vote as a conspiracy by suspicious elements aimed at dividing people and the Islamic system, and also targeting people's trust in it. "Wherever the people entered the scene with full alertness, such plots were foiled," the ISNA and IRNA news agencies quoted him as saying, without elaborating.

Rafsanjani, who has occupied key posts since the founding of the Islamic Republic, backed Mousavi's election campaign and was fiercely criticized by Ahmadinejad on television.
12:08 PM ET -- Iran arrests 8 British embassy officials. Here's the state media report:
Iranian security officials have arrested eight local staff members of the British embassy for 'inflaming post-election tensions' in the country.

Iran's Fars news agency reported Sunday that those arrested have had a significant role in the recent unrest. [...]

British Foreign Secretary David Miliband on Sunday described the arrest of eight "hardworking diplomatic staff" of the UK embassy in Tehran as "harassment" and "intimidation".

He said that London had lodged an official complaint with Iranian authorities about the arrests, which occurred on Saturday.

Miliband, who was speaking on the sidelines of a meeting of the Organization of Security and Cooperation in Europe on the Greek island of Corfu on Sunday, said the development was "quite unacceptable".

"At the moment our top priority is the position of our locally engaged staff, who we want to see released, unharmed and back at work," he added.
More from the AFP: "The European Union vowed Sunday to meet any harassment of diplomats in Iran with a 'strong and collective response' after eight British embassy staff in Tehran were arrested. 'The harassment or intimidation of foreign and Iranian staff working at the EU embassies will be met with a strong and collective EU response,' said a statement by the Czech EU presidency."
11:54 AM ET -- Updates on Tehran march. Several unconfirmed posts on Twitter say that a heavy police presence has joined the marchers. One person on Twitter writes, "Helicopters Flying Over ppl &Anti-Riot Police Asking ppl to leave, The Meeting is Cancled! But ppl Staying in the St." Another: "No News of Mousavi, But People Staying, Some Siting in the Streets, More People trying to join, No Conf of Numbers."
A reader sends in the first video apparently from today. The crowd is chanting a slogan we've heard before, "Ya Hossein! Mir Hossein!" The first section, a reader notes, means, "'Hossein help me' - Hossein is the son of Imam Ali, and the grandson of Prophet Mohammed." The second section, Mir Hossein, is of course the first part of Mir Hossein Mousavi's name.
11:50 AM ET -- Several Mousavi campaign aides reportedly released. Via a very helpful reader, the news site Gooya reports, "According to an Ayandeh reporter, Mousavi's election campaign leader (Ghorban Behzadian-Nejad) as well as 22 out of 25 staff members of his newspaper, Kalameh Sabz (translation: green word) that were arrested last week, have been released. However, 1 member of Kalameh's website has been detained since."
11:30 AM ET -- Thousands march silently in Tehran. "About 5,000 protesters marched slowly and silently through Tehran Sunday, near a mosque where the government was allowing a demonstration for the first time in days, a CNN producer said."
Authorities were riding on motorcycles alongside the marchers, who are telling each other to walk slowly and drag their feet, a CNN producer reported. Police were telling the demonstrators to move faster, the producer added, who CNN is not naming for security reasons.

Some of the protesters were telling the police that they have the legal right to protest in peace, the CNN journalist said.
11:27 AM ET -- Bon Jovi, Iranian singer Andy Madadian record 'Stand By Me' tribute. Reader Shahrzad writes, "Andy is a well-known Iranian Armenian pop musician, standing next to Jon Bon Jovi, who is an iconic figure in American music (and also very admirable on a personal level)...to see these two musician unite and sing this song in the fashion that they do is truly inspiring."
TV Guide covers the video here:
Earlier this week, Bon Jovi and bandmate Richie Sambora recorded a version of Ben E. King's classic "Stand by Me" with Iranian superstar Andy Madadian. Their mission: to send a message of global solidarity to the people of Iran who are caught in the midst of debate and protest over the country's recent election.
11:20 AM ET -- Solidarity. An Israeli woman takes part in a demonstration in Tel Aviv in support of Iranian opposition protestors on June 27, 2009. (Getty)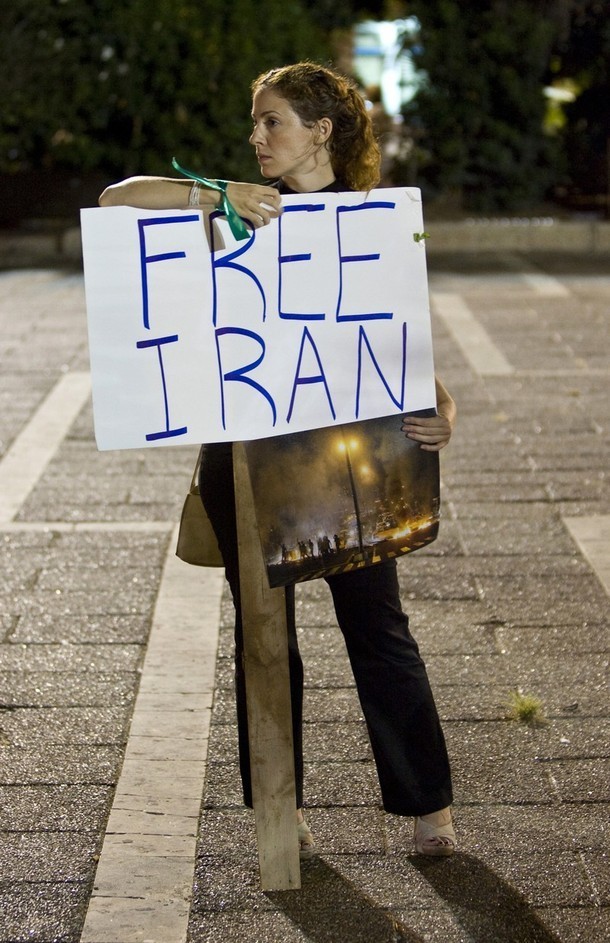 Useful Resources
Translations: TehranBroadcast.com | Translate4Iran
Helping Iranians use the web: Tor Project (English & Farsi)IranHelp.org (Farsi)
Demonstrations: WhyWeProtest