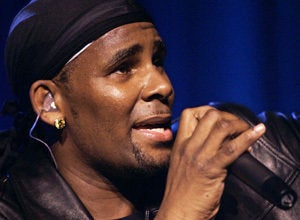 A report that R&B star R. Kelly is under investigation for a sexual relationship with an underage girl is false, according to police.
Citing an anonymous source "close to R Kelly," Media Take Out reported Wednesday that police raided the singer's home in suburban Olympia Fields in connection with an alleged relationship between Kelly and a 17-year-old girl. The report also claimed that "Olympia Fields Police are still tenaciously pursuing the case."
An Olympia Fields Police Department spokesperson, however, denied Media Take Out's report to the Huffington Post.
"No, none of it is true," she said. The site's claim that Olympia Fields Police had confirmed the report was also false, she said.
A spokesman for Cook County Sheriff Tom Dart said their office had no knowledge of any investigation.
A spokesman for R. Kelly also disputed the report, calling it "wildly exaggerated and inaccurate" in a statement:
"A wildly exaggerated and inaccurate report has been circulating on the Internet that Olympia Fields police showed up at R. Kelly's house with a search warrant just before the singer left for his three-week concert tour in Africa last month and then searched the place looking for a missing 17-year-old girl.

"This is completely false. No police ever showed up at Kelly's house with a search warrant nor was his house ever searched. It is also not true, as the unsubstantiated report claimed, that any such girl ever stayed overnight in Kelly's house or that she had been there but left shortly before some mythical police search.

"Kelly's attorneys have informed the police that they will cooperate fully with any investigation."
Media Take Out has since updated their story, now allowing that "R Kelly may be investigated by the Illinois police for committing statutory rape" (emphasis added).