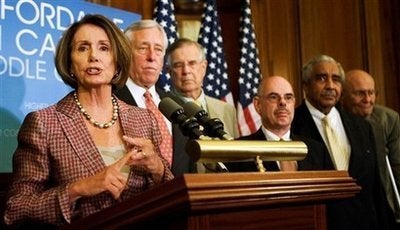 The Congressional Budget Office estimated in a letter to Rep. Charles Rangel (D-N.Y.) on Tuesday that the House health care reform proposal would reduce the number of uninsured by 35 to 37 million people, relative to current projections. The non-elderly insured population would increase to 94 percent.
Excluding illegal immigrants, that brings the total covered under the plan to 97 percent of all Americans. Three million people, the CBO estimates, would switch from employer-based coverage to coverage from an insurance exchange. The exchange would be similar to the health insurance options available to members of Congress, with a required minimum amount of coverage.
Another three million wouldn't have an offer of employer coverage to decline -- a significant number, but far from the tens of millions losing insurance that the GOP has cited.
The CBO estimated the public plan offered by the bill would be roughly 10 percent less expensive than other plans in the insurance exchange and that 9 to 10 million people would enroll in it.
The cost over ten years would be $1.042 trillion -- markedly less than estimates of Senate plans with less coverage and no public option.
Read the full letter from the CBO here and e-mail ryan@huffingtonpost.com with observations. The CBO answers questions about its analysis here.
The House released the text of its much-awaited bill on Tuesday. It can be found here.