I'm liveblogging the latest Iran election fallout. Email me with any news or thoughts, or follow me on Twitter. Send me instant messages at nico.pitney@gmail.com or njpitney on AIM. Scroll down for news related to the front-page headlines. Local Iran time is 8 1/2 hours ahead of Eastern time.
Updates for the week of July 27 are here.
Worldwide demonstrations Saturday. Check United4Iran.com for updates. Amnesty International's web sites highlights some of the larger events planned in the United States.
If you attend one of the rallies, click here to submit photos to the Huffington Post. We'll feature them as they come in.
3:16 PM ET -- Photos from readers. Keep submitting them -- either here or to me via email.
Daylife.com has a wonderful set of photos from the wire services. BBC Persia has another large slideshow -- via a reader, the first photo is of Shirin Ebadi in Amsterdam, and subsequent photos are of gatherings in Tokyo (Japan), Islamabad (Pakistan) and Berlin (Germany).
PHOTO GALLERY
Global Iran Demonstrations
Here's one write-up:
Demonstrators in cities around the globe joined protests Saturday denouncing human rights abuses in Iran and showing support for opponents of hardline President Mahmoud Ahmandinejad.

Some of the biggest rallies took place in Amsterdam, London and Stockholm, with more than 4,000 alone taking to the streets of the Swedish capital.

Among the 1,000 people in Amsterdam was Iran's Nobel Peace laureate Shirin Ebadi who led the crowd in chanting: "We want to live in peace. Long live peace".

"We are here to show our solidarity with the people of Iran and to urge the Iranian government to respect human rights," said Tom van den Brand, a spokesman for Amnesty International in Amsterdam.

In London, where more than a thousand gathered outside the Iranian embassy, organisers also spoke of supporting Iranians protesting Ahmandinejad's disputed re-election.

"This is symbolic, it's a global day of solidarity," said Potkin Azarmehr, one of the organisers. "We need to make sure the government pays a price for the way they're treating the people in Iran."
3:12 PM ET -- Ahmadinejad names Mashei as senior advisor.
After a weeklong furor amongst Iran's ruling elite over Ahmadinejad's vice president choice, the president appoints the deputy, who resigned, as an advisor and head of the Presidential Office.

"I appoint you [Esfandiar Rahim-Mashaei], as a faithful and competent figure, as advisor and head of the Presidential Office," Ahmadinejad said in a decree on Saturday.

According to the decree published on president's website, Ahmadinejad expressed hope Rahim-Mashaei would be successful in serving the great Iranian nation and the Islamic establishment in cooperation with his colleagues.

Rahim-Mashaei's appointment as the country's vice president unleashed torrents of criticism from both the president's supporters and opponents alike.

Following the political controversy, the president reversed his decision and accepted Rahim-Mashaei resignation.
3:11 PM ET -- Big turnout in Australia. Many more photos here.
3:08 PM ET -- Demonstrators in Kyrgyz Republic reportedly arrested. A press release from United4Iran.org.

(July 25, 2009) Eight human rights defenders who were planning to hold a protest in front of the Iranian Embassy in the city of Bishkek in Kyrgyz Republic were arrested today. The demonstrators had assembled on a sidewalk, walking towards the Iranian Embassy. As they approached the main street leading to the embassy a group of policemen, who were apparently expecting them, detained all of them. As of this writing, 8:30 a.m. GMT, the detainees were held in a local police station and were due to be arraigned in a court. It is not clear under what article of the law they have been detained.

United4Iran, who has called for worldwide rallies to show solidarity with the people of Iran in over a hundred cities on July 25, deplores the actions of the Kyrgyz government denying its citizens the right to peaceful assembly.

United4Iran called on the Kyrgyz authorities to immediately release all the detainees. The names of the detainees are:

1. Tolekan Ismailova, Director of human rights center "Citizens Against Corruption"
2. Baijumanova Aida, national coordinator "Citizens Against Corruption"
3. Shaihutdinov Timur, Youth and Student rights Advocacy Council of Ombudsmen.
4. Diana Makembaeva, coordinator of human rights film festival, "Citizens Against Corruption"
5. Krapivina Evgeniya, lawyer
6. Imankulova Erkingul, Public Association "Karek"
7. Arykova Umutay, human rights activist
8. Urmat Kyzy Mirgul, activist

For more information contact:

Hadi Ghaemi (917)669 5996

Pantea Beigi (303) 455 2099
2:54 PM ET -- Iranians demonstrate outside Evin prison. Via reader Chas Danner -- date unspecified but just uploaded today:
2:41 PM ET -- Green scroll unrolled in Paris. Live video is streaming on Ustream. Diane Tucker has much more.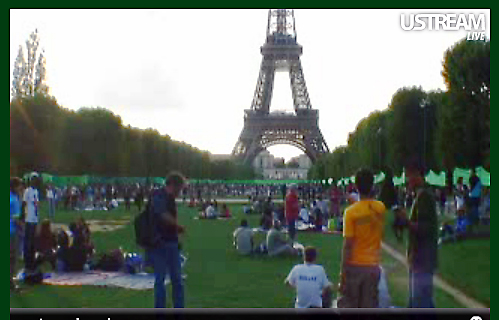 10:53 AM ET -- CNN covers global protests.
FRIDAY JULY 24
8:41 PM ET -- Ahmadinejad VP Mashaei resigns. Some big news broke while I was away -- Khamenei released a succinct letter demanding that Ahmadinejad dump his controversial choice for vice president Rahim Mashaei (who had come under heavy fire from conservatives and hard-liners in part over comments he'd made praising Israelis), and within hours, Ahmadinejad gave in. From the NIAC blog:
Rahim Mashaei has resigned from his post as First Deputy to Ahmadinejad, Fars News Reports [Persian]. Ahmadinejad had resisted firing Mashaei for six days despite an order to do so from the supreme leader. Mashaei was a controversial nominee in part because he said Iran was the friend of the American and Israeli people.

Samareh Hashemi, President's senior aid, on behalf of Mashaei said, "after the announcement of [Supreme Leader's] order, I no longer consider myself the President's First Deputy and will serve the Revolution and Iran wherever else it is necessary."
8:35 PM ET -- Meeting Austin Heap and his team. I had the great pleasure of watching a demonstration of Austin Heap's Haystack technology today -- it's simply astounding work. It sounds as if they'll be announcing more details in the days and weeks to come but for now, please consider heading to his site and donating either funds or USB thumb drives.
To give you a sense of why this is so important, check out this AP piece that went out over the wires tonight:
The tweets still fly and the videos hit YouTube whenever protesters take to the streets in Iran -- even as the Internet battle there turns more grueling.

Authorities appear to be intensifying their campaign to block Web sites and chase down the opposition online, and the activists search for new ways to elude them.

Sites such as Facebook, Twitter and YouTube remain blocked, as they have been since Iran's political turmoil began following the disputed June 12 presidential election. Internet experts believe the government is going further -- including tracking down computers from which images and videos of Iran's protests are sent out to the rest of the world. Activists fear their every move online is watched.

"We are really worried about this. To protect myself, I just limit my posts on social networks, my tweets and also I deleted some parts of my personal blogs and my other notes on the Web," one Iranian who regularly sends tweets about the election turmoil said in an e-mail to The Associated Press.

Another said, "Every site where people can gather and stay connected and share news and pics ... is blocked." Both agreed to e-mail interviews on condition of anonymity, fearing government retaliation.
7:50 PM ET -- Christian Science Monitor slams Clinton over Iran. A very harsh editorial from the paper's editorial board begins, "Loose lips sink ships and, for America's top diplomats, they can also sink countries into war."
1:04 PM ET -- Senate passes Iran VOICE Act. Just emailed out by Sen. Joe Lieberman's office.
WASHINGTON, D.C. - The Senate voted unanimously last night to adopt bipartisan legislation that will help strengthen the ability of the Iranian people get access to news and information and overcome the electronic censorship and monitoring efforts of the Iranian regime.

The Victims of Iranian Censorship (VOICE) Act was introduced by Senators John McCain (R-AZ), Joseph Lieberman (ID-CT), Ted Kaufman (D-DE), Lindsey Graham (R-SC), and Robert Casey (D-PA) as an amendment to the National Defense Authorization Act. Among the key features of the VOICE Act:

* Authorizes $30 million to the Broadcasting Board of Governors to expand Farsi language broadcasting into Iran by Radio Free Europe / Radio Liberty's Radio Farda and the Voice of America's Persian News Network. The funds may be used to develop additional transmission capability to counter Iranian government efforts to jam radio, satellite, and Internet-based transmissions; establish additional proxy server capability and anti-censorship software to counter efforts to block access to websites in Iran; develop technologies to counter efforts to block SMS text message exchange over cellular phone networks; and hire, on a permanent or short-term basis, additional staff for Radio Farda and the Persian News Network.

* Authorizes $20 million for a new "Iranian Electronic Education, Exchange, and Media Fund," which will support the development of technologies, including websites, that will aid the ability of the Iranian people to gain access to and share information; counter efforts to block, censor, or monitor the Internet in Iran; and engage in Internet-based education programs and other exchanges with Americans online.

* Requires a report by the President on non-Iranian companies, including corporations with U.S. subsidiaries, that have aided the Iranian government's Internet censorship efforts, including by providing deep packet inspection technology.

* Authorizes $5 million for the Secretary of State to document, collect, and dissemination information about human rights in Iran, including abuses of human rights that have taken place since the June 12 Iranian election.
12:08 PM ET -- Warnings sent to anti-Khamenei activists, Rafsanjani. Reuters reports:
A hardline Iranian cleric said on Friday there had been plots in the Islamic state to weaken Supreme Leader Ayatollah Ali Khamenei's position after a disputed election last month. [...]

"We know of some insulting private meetings. We know about the plots against the leader but you (who hold these meetings) should know that you will not be able to stand against the people," Ahmad Khatami told Friday prayer worshippers. "Our people will defend the leader until the last drop of their blood," Khatami, a member of the Assembly of Experts, added.
Also:
Separately on Friday, 50 members of the 86-seat Assembly of Experts, called on Rafsanjani in a statement to show more support for the leader.

"Many ... expect the head of the assembly, who has always helped the leader in solving problems and obstacles in the past, to show more and clearer support for the leader during these sensitive times," the statement read.
11:54 AM ET -- Demonstrators give flowers to Army soldiers. A friend describes the scene:
This video is from the city of Kerman (I am unsure when it was taken but it was posted yesterday) and shows demonstrators clapping for and giving flowers to security forces (Nirooye Entezami) who are coming towards them - I guess this is an ingenious way to stop them from getting beaten up. How can you beat someone who hands you a flower?

This is the slogan they chant:

"Nirooye Entezami, Hemayat, Hemayat" - meaning: Security Forces, Protect us, Protect us.....

At the very end they chant:

"Nirooye Entezami, Tashakor, Tashakor" - meaning: Security Forces, Thank you, Thank you....
11:50 AM ET -- Son of Rezai's consultant reportedly dies in Evin prison.
According to reformist paper Mowj Sabz (Green Wave), the son of Dr Abdolhossein Roh Allamani Najafabadi, one of the top consultants to Presidential candidate Mohsen Rezaei (who is actually fairly conservative), has died in Evin Prison. The paper reports that his family was informed via phone on Tuesday of the death of Mohsen Roh Allamani, who was arrested during the 18 Tir protests on 9 July.
11:45 AM ET -- Ayatollah issues fatwa over Ahmadinejad's inauguration. Ayatollah Bayat-Zanjani, responding to questions from a "concerned person," has issued a fatwa regarding the presidential inauguration of Ahmadinejad:
If the individual [claiming to be president] has attained his position illegitimately and fraudulently, the inauguration ceremonies and investment of power done by the supreme leader will are not sufficient to confer legitimacy [upon the aforementioned president] because [the act of] performing these ceremonies is not the main foundation upon which [presidential legitimacy is built upon] . These ceremonies can only invest power if the president has reached his position through an honest election process.
11:42 AM ET -- Tehran mayor slams Ahmadinejad over VP choice. Translated by a reader: "In a meeting with a number of members of Parliament today, Tehran's Mayor, Dr. Mohammed Bagher Ghalibaaf, strongly criticized Ahmdinejad's pick for VP, Rahim Mashaie. In that meeting, Ghalibaaf said: 'What is surprising is that how can Ahmadinejad who goes on about "Velayat-e Faqih" make such a choice? It must be that Ahmadinejad does not believe in "Velayat-e Faqih." Ghalibaaf went on to talk about Mashaie as being anti-revolutionary - that Mashaie had spent time in prison for being an opposition member and had married the woman he met in prison."
Velayat-e Faqih is a book written by revolutionary leader Ayatollah Khomeini.
9:59 AM ET -- Hunger strike updates. From reader Mario: "Here's the Akbar Ganji and Noam Chomsky speeches in NY yesterday. Ganji's speech is worth translating, I found it to be quite amazing."
8:17 AM ET -- More pressure on Ahmadinejad to sack VP. From today's prayers in Tehran:
Ayatollah Ahmad Khatami, who led Friday prayers in Tehran, once again called on President Mahmoud Ahmadinejad to sack his acting president, Esfandir Rahim-Mashaie.

"I hope that the president will pay attention to critics and especially the demand by the supreme leader Ayatollah Ali Khamenei and revise the appointment of his first vice-president," the ayatollah said.

Ahmadinejad appointed Rahim-Mashaie was last week as first vice-president, making him de-facto acting president until his own inauguration on Sunday.

"The demand by the leadership should be implemented by the president at the earliest term without any hesitation," said the cleric, himself a supporter of Ahmadinejad.
Also, several ministers of Ahmadinejad's cabinet reportedly walked out of a meeting with him on Wednesday:
Amid a continued political controversy in Iran over Mahmoud Ahmadinejad's first vice presidential pick, cabinet members engage in a verbal quarrel with the president over his insistence on the choice.

The quarrel broke out at Wednesday's cabinet meeting between President Ahmadinejad and the Minister of Culture and Islamic Guidance, Mohammad-Hossein Saffar-Harandi.

Despite a reported call by the Leader of the Islamic Revolution advising the president to reverse his decision in appointing Rahim-Mashaei as his top deputy, Ahmadinejad insisted that Esfandiar Rahim-Mashaei would serve as the vice president.

Following President Ahmadinejad's refusal to reverse the decision, Saffar-Harandi left the meeting of cabinet members, Ayandehnews reported on Wednesday.

During the meeting, President Ahmadinejad also criticized what he called "interference by certain officials" in the shape-up of his future cabinet.

The president's criticism prompted reactions from some other cabinet members with ministers of intelligence and labor walking out of the meeting in protest at the remarks.
7:51 AM ET -- Haystack update. I've spent some time here discussing Haystack, a brand new tool developed by tech guru Austin Heap and his team to help Iranians break through their country's Internet firewall. Haystack has a brand new website -- you can check it out here.
This afternoon, Austin Heap and his team will be here in Washington DC, explaining Haystack and demonstrating the technology. (If you're in the area and would like to attend, email me at the address above. Space is extremely limited but I'll try my best.) But more importantly, Cyrus Farivar alerted me to the fact that Austin has just posted an important request for donations of USB thumb drives.
If you've got some mini USB drives hanging around, going unused, or if you'd like to buy a few at your local electronics store and send them Austin's way, click here for instructions.
7:13 AM ET -- A day in the life of the Basiji. A fascinating 10-minute documentary produced by Current TV:
Meanwhile, Reuters features this Q&A on the Revolutionary Guard.
6:53 AM ET -- Parvin Fahimi speaks. Via reader Chas Danner, the activist mother of 19-year-old Sohrab Aarabi, who was murdered during last month's election demonstrations, addressed Tehran's City Council yesterday. The videos -- part I and part II -- are each several minutes long and in Persian.
Update: On his blog, Chas Danner writes about Fahimi and "the power of mom."
Update II: A volunteer has transcribed Fahimi's very powerful statement. Here's a portion -- read it all here:
Now I just want to know why my son has passed away, is it just for the vote he had given? Or for the protests or whatever else? My 19 year old child who has not yet even been given the entrance examination for his Bachelors Degree, a child who hadn't yet reached for any of his wishes, is assassinated by whom? And by whose order? and why? I ask the City Council, what had my son asked of you? Of the government? Of the country? We just wanted tranquility, liberty, my son was just thinking about who he would vote for, and then asking "Where has my vote gone...?" He asked for nothing more, he was just killed because he was supporter of Mr. Mousavi... for what kind of crime was he killed...? My son was just a 19 year old boy.... He hadn't yet reached for any of his wishes... I, his mother - day and night I am asking God to put an end to this oppression....
6:50 AM ET -- Clinton: Iran unable to respond to overtures.
The United States is still willing to 'reach out' to Iran but political turmoil there means Tehran is not now in a position to respond, Secretary of State Hillary Clinton told the BBC on Thursday.

President Barack Obama made diplomatic overtures to Iran before its June 12 election, but Clinton told the BBC: "We haven't had any response."

She added: "We've certainly reached out and made it clear that's what we'd be willing to do, even now, despite our absolute condemnation of what they've done in the election and since, but I don't think they have any capacity to make that kind of decision right now."
6:41 AM ET -- Ayatollah Makarem-Shirazi criticizes state media coverage. As reported by Iran's state-backed media Press TV:
With Iranian media criticized over its post-election coverage, Grand Ayatollah Nasser Makarem-Shirazi touches on the "aggressive language" employed by Iran's state broadcaster. [...]

In its reports of the post-election rallies, the Islamic Republic of Iran Broadcasting (IRIB) referred to protesters as "rioters".

The state television came under criticism by the opposition for having a "biased stance" in its coverage of the unrest.

In a meeting with the managers of the semi-official Fars News Agency, Ayatollah Makarem-Shirazi urged the "use of the language of friendship and compassion" to help maintain security in the country.

"We should urge everyone to use the language of friendship and compassion because the aggressive language used by IRIB will not help resolve any of the problems," Mehr news agency quoted the Grand Ayatollah as saying on Thursday.
6:31 AM ET -- Graphic video apparently of injured demonstrator. Please be aware, this video is very graphic. It was uploaded relatively recently but the caption states that it was filmed last month, on June 21.
6:25 AM ET -- Iran's economy reportedly suffering. This report from RFI states that the economic situation has worsened in Iran in recent years, contrary to government claims. Citing the Center of Statistics of Iran, the unemployment rate hit 11 percent in April 2009, up one percent from a year ago. But, an informed emailer writes, Iranians who work even one hour each week are considered "employed," so the true figure is higher.
WEDNESDAY JULY 22
10:47 PM ET -- Rep. Berman wants sanctions on Iran petroleum sector. Well, here's the key takeaway from the House Foreign Affairs Committee hearing we've been talking about the last few days.
I'm going to save extended comment on this development until tomorrow. The gist is below -- this editorial piece from Voice of America has much more. Reuters also has a write-up.
Reading these stories did make me recall the conversation I had with Berman one month ago. At the time, Berman was backing a non-binding resolution on Iran, and I asked him if he foresaw any additional congressional actions on Iran. He said no. "We have said what we've said. And my view now is the principle of 'do no harm.' Stay out of this."
Apparently his views have changed.
The chairman of a key U.S. House of Representatives committee has signaled his intention to move ahead with sanctions legislation targeting Iran's refined petroleum sector, if Iran does not take up the U.S offer of direct talks on its uranium enrichment program. The statement by Democratic Representative Howard Berman of the House Foreign Affairs Committee came amid other steps in Congress to increase pressure on Iran.

Congressman Berman's statement came during a hearing on Iran, and refers to his Iran Refined Petroleum Sanctions Act (IRPSA) which now has 260 sponsors in the House of Representatives.

The legislation would amend the existing Iran Sanctions Act to target persons or companies involved in exporting refined petroleum products to Iran, or investing $20 million or more directly contributing to maintaining Iran's domestic petroleum infrastructure.

Although a major oil producer, Iran imports most of the gasoline it uses because of inadequate refining capacity. U.S. lawmakers see this as leverage in efforts to persuade Iran's government to halt its nuclear enrichment program.

Describing his bill as "Plan C" in a strategy that includes President Barack Obama's offer to Iran to begin a dialogue, and stronger international sanctions, Berman says he will move it forward in the next few months if Iran fails to take up President Obama's offer of engagement:

"I view the bill as a "Sword of Damocles" over the Iranians, a clear hint of what will happen if they do not engage seriously and move rapidly to suspend their uranium enrichment program as required by numerous U.N. Security Council resolutions. If engagement doesn't work than I am prepared to mark up the bill in committee early this fall," he said.
10:38 PM ET -- Rumor patrol. There's a graphic photo being passed around allegedly showing bodies of people killed at Iran's notorious Evin prison. That's not right. Here's the same photo, posted months ago, reportedly showing individuals killed in Iraq.
10:36 PM ET -- Iran nuclear reactor set to be switched on this year. "Russian news agencies quote the country's nuclear agency chief as saying a Russian-built nuclear power reactor in Iran is still set to be switched on this year."
10:35 PM ET -- Time magazine: "Iran opposition tries to spark power outage."
10:29 PM ET -- More Facebook issues. Apparently the moderators of the Facebook page for Mousavi's wife, Zahra-Rahnavard, are being blocked from posting. I've let my Facebook contacts know, and will update when I hear anything.
Update: Facebook's Chris Kelly writes again to say his team is working on this.
3:09 PM ET -- Solidarity. Reporters in Afghanistan show support for their colleagues in Iran.
2:34 PM ET -- Major hunger strike begins outside the U.N. Readers have been sending me emails about this for days and I feel guilty about not posting about it earlier, it just slipped through the cracks.
In any case, here's one reader's description:
I am not sure whether you are aware of the hunger strike that is going on in front of the UN building right now. It started today and will continue till Friday evening. Many prominent Iranian figures are taking part or supporting the hunger strike (including major political figures, academics, journalists, clerics, etc). In fact, what is very important about this effort is that it has brought together many figures with different beliefs and backgrounds, but who share the desire for true democracy in Iran and the release of political prisoners.

The idea for the strike was initiated by Akbar Ganji, the well-known Iranian journalist who was jailed by the regime and went on a hunger strike in prison that lasted for weeks and almost took his life.
Here's the language from the press release association with the strike:
In solidarity with the Iranian people's Green Movement and condemning the widespread electoral fraud, the merciless repression of the popular protests, and the illegal arrest of hundreds of citizens and activists in Iran, we the undersigned are going on hunger strike between 22 to 24 June in front of the UN building in New York. We intend to have the voice of the long-suffering Iranian people to be heard. We ask the responsible members of the world community to demand the release of all the recent prisoners. Considering the alarming condition of the recent detainees, with their health and even lives in jeopardy, we demand they be visited by representatives of the General Secretary of the UN and immediately freed.

In addition, we the undersigned call on all our compatriots living in the United States to join this protest, meeting on the above-mentioned dates in front of the UN to declare their solidarity with Iranian people's Green Movement during these dangerous and crucial days.
Some photos from today are here and here.
Actor Sean Penn co-authored an article declaring his support for the strike, you can read it at the official website for the strike, Strike4Iran.com. Actor Robert Redford also pledged support:
Political events in Iran over the past month have been dramatic. Many have been killed and hundreds of innocent people have been imprisoned. I strongly defend the human rights of the people of Iran. A hunger strike in front of the United Nations is one way of drawing world attention to the plight of political prisoners in Iran. I support this effort and my daughter, Amy Redford, will be there as an expression of solidarity with the Iranian people, and in the hope of achieving the humanitarian goal of freeing political prisoners in Iran.
Update: Here's coverage from CNN International:
2:00 PM ET -- Remembering Neda. A sculpture in San Francisco.
1:52 PM ET -- Brother of Mousavi's wife arrested, according to U.S. funded outlet Radio Farda.
1:49 PM ET -- Paging Facebook staff. Why is Mousavi's page suddenly down?
Update: It appears the page is functioning at this alternate address.
Also, I reached out to Chris Kelly at Facebook -- he writes back, "I have our folks looking at this..."
Update: It's back!
1:20 PM ET -- Reaction to Clinton's remarks. I posted earlier (7:30 AM) about Hillary Clinton's comments regarding the creation of a U.S. "defense shield" in the Middle East in response to Iran.
A smart reader argues that the "defense shield" concept will undermine U.S. interests in Iran and region-wide by too closely allying the U.S. with (non-democratic) Arab states, many of which have a long history of enmity with Iran. He argues that the "defense shield" sends the message that "regardless of regime in Iran, the U.S. will always support the Arabs."
Meanwhile, Israel has taken a different stance, arguing that Clinton's remarks are a sign that the U.S. does not intend to stop Iran from producing nuclear weapons:
Secretary of State Hillary Clinton on Wednesday stirred Israeli fears that Washington would accept a nuclear armed Iran when she raised the idea of a US "defence umbrella" for Gulf allies.

However, Clinton, during a visit to Thailand for an Asian security conference, said later that she was not announcing a new policy and simply wanted to turn Iran away from pursuing a nuclear weapon. [...]

In Jerusalem, Israeli Intelligence Services Minister Dan Meridor criticised her remarks.

"I heard without enthusiasm the American declarations according to which the United States will defend their allies in the event that Iran uses nuclear weapons, as if they were already resigned to such a possibility," he said.

"This is a mistake," Meridor said. "We cannot act now by assuming that Iran will be able to arm itself with a nuclear weapon, but to prevent such a possibility." [...]

Speaking at a press conference in Phuket later, Clinton suggested her remarks were misunderstood.

"I'm not suggesting a new policy. In fact we all believe that Iran's pursuit of nuclear weapons is unacceptable, and I've said that many times," she said.
1:18 PM ET -- Mousavi: More woes for Iran under Ahmadinejad.
Opposition leader and defeated presidential candidate Mir Hossein Mousavi said on Wednesday the new government of President Mahmoud Ahmadinejad could cause domestic and international problems for Iran.

Mousavi, who has refused to acknowledge Ahmadinejad's victory in the June 12 election, said senior technocrats, managers and other professionals were not keen to work with the new government.

"You are facing a government which the elite do not want to work with, and on the other hand the government too is not interested in using the experience of the elite," Mousavi was quoted as saying by the ILNA news agency.

"This will result in a lack of efficiency and legitimacy, which can increase domestic and foreign problems," he said, speaking to academics and journalists.
12:47 PM ET -- Human Rights Watch: Iran 'framing' government critics: "Iranian authorities are coercing detained supporters of reform presidential candidates to implicate leading reformists in illegal acts, Human Rights Watch said today. Intelligence forces have also intensified pressure on the families of detainees to be silent about their cases."
In related news, Reuters reports:
An Iranian defense lawyer voiced concern on Wednesday about two leading reformers detained shortly after last month's disputed election, saying he did not know where being held and who was holding them.

Lawyer Saleh Nikbakht says he represents several pro-reform activists who were detained after the June 12 presidential vote, including Mostafa Tajzadeh and Behzad Nabavi, both allies of opposition leader Mirhossein Mousavi.

"We know nothing about their whereabouts and which body has arrested them," Nikbakht told Reuters. "The families ... have not been able yet to meet with them and expressed their concerns over the conditions of the two."
12:42 PM ET -- Ahmadinejad bucks Khamenei, defends VP pick. Ahmadinejad is unbowed on Wednesday. This is getting interesting.
President Mahmoud Ahmadinejad defiantly defended on Wednesday his appointment of controversial aide Esfandiar Rahim Mashaie as first vice president, saying he liked him for "1,000 reasons."

Iranian hardliners and clerics are pressuring Ahmadinejad to reverse the appointment of Rahim Mashaie, whose daughter is married to the president's son, after he enraged them last year for making pro-Israel comments.

Ahmadinejad however has not shown any sign of backing down and on Wednesday came in bold support of Rahim Mashaie, saying he was proud of him.

"I like Rahim Mashaie for 1,000 reasons. One of the biggest honours of my life and one of the biggest favours from God to me is knowing Rahim Mashaie," Ahmadinejad said.

"He is like a pure source of water," the president said in an address at a farewell function for the aide after he officially resigned from his position as vice president in charge of tourism to take up his new post.

"One of the reasons to like him is that when you sit with him and talk, there is no distance with him. He is like a transparent mirror. Unfortunately not many people know him," the official IRNA news agency quoted Ahmadinejad as saying.
Contrastingly, in a story printed by state-backed media today, Ahmadinejad's senior political adviser backtracked on comments he made saying Ahmadinejad would definitely not let Mashaie be sacked.
Useful Resources
News: NIAC Insight | Kodoom
Translations: Google Translate | TehranBroadcast.com | Translate4Iran
Helping Iranians use the web: Haystack | Tor Project (English & Farsi) | IranHelp.org (Farsi)
Demonstrations: Facebook | Sharearchy | WhyWeProtest
Activism: Avaaz.org | National Iranian American Council