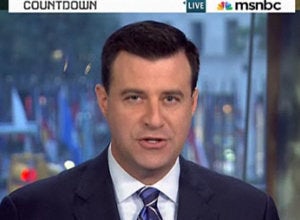 Over e-mail from California, where he is vacationing, Shuster said, "Never in my career have I ever been a diva or complained about how I've been shot or framed" and called the Page Six story a "complete and utter fabrication."
"I'm the guy who is happy to do anything and NEVER complains, ever," he said.
He added, "I have no issues with my hair or the spot on my head where I lack some."
His full e-mail is printed below, with his permission:
Danny,

Never in my career have I ever been a diva or complained about how I've been shot or framed. Ask any director or producer who has actually ever worked with me. I'm the guy who is happy to do anything and NEVER complains, ever.

The ny post/page 6 allegation is a complete and utter fabrication. I have no issues with my hair or the spot on my head where I lack some. I have never complained or been concerned about being shot from behind. (We use the plasma shot nearly every show.)And, I don't "go crazy" or have "meltdowns" over anything.

I can't even think of any incident in recent weeks where I complained about anything and might have been misconstrued.

I can easily imagine however, why the ny post would make things up out of whole cloth. But, I'll leave that story to you.

Please give my denial as much space on huffpost as you gave to page 6.

Thanks

Shuster

PS. I'm on vacation in california. But, I'll keep my bberry nearby should you have any questions.

--------------------------

Sent using BlackBerry