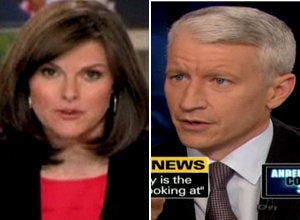 CNN had its best July ever this month, and reclaimed second place in the cable news ratings, topping MSNBC.
CNN, which may have been aided by its in-depth coverage of Michael Jackson's death, outperformed MSNBC in total primetime viewership with 1.284 million average viewers to 868,000 for MSNBC, a 48% margin. CNN also drew more viewers (430,000) in the key adults 25-54 demographic than MSNBC (274,000).
CNN also performed well outside of primetime, beating MSNBC by 82% in total day viewers (724,000 vs. 397,000).
A number of CNN's flagship shows, including "Larry King Live", "Anderson Cooper 360", "Campbell Brown" and "The Situation Room with Wolf Blitzer" outperformed their numbers from July 2008.
HLN also had its best July ever in terms of both total viewers and the key demographic. It beat MSNBC for total day viewership (147,000 to 144,000) and grew 48% in total primetime viewers over last year.
HLN programs like "Nancy Grace" "Morning Express with Robin Meade" and "Prime News" all showed double-digit growth over last year.
However, the big winner, as usual, was Fox News, which continued to dominate ratings. The network beat MSNBC and CNN combined with 2.071 million total viewers, and had nine of the top ten cable news shows. Fox also grew by 70% in the 25-54 demographic in primetime over last year.